Latest Kerala Local News: Inspirational journey of Amal Iqbal, the hero of Sidhique Kodiya
Kozhikode: The recently released Malayalam film 'Akasham Kadann' marks the directorial debut of popular home cinema comedian, Sidhique Kodiyathur. The film shines a light on the challenges faced by people with disabilities and their families, delivering a powerful message of inclusivity to society. The film's most notable feature is its hero, Amal Iqbal, who was born with cerebral palsy and locomotor disease, a rare condition. Russel's outstanding portrayal of Amal, a character with locomotor disease, has captivated audiences across the state since its July 21 release.
Russel, born to Rauf and Sajna, falls ill and becomes bedridden, setting the stage for their daily struggles to unfold. While most people empathize with people with disabilities, a few still struggle to understand their challenges, including some parents. As the parent of a child with an intellectual disability, Sidhique incorporated his personal experiences and observations into the film.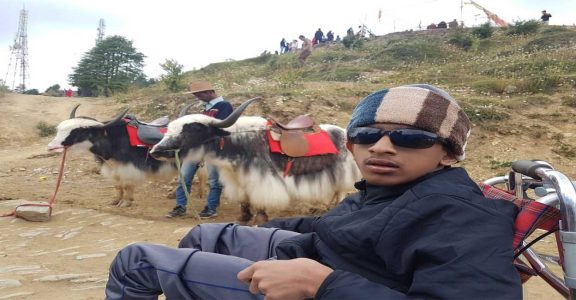 "I can relate to this because I am the parent of a child who faces developmental disabilities and related physical challenges. Additionally, I come into contact with other parents of children with similar disabilities in my day-to-day life. Many have devoted their entire lives to their children, but there are also those who leave their children in nursing homes to enjoy a comfortable life," Sidhique said. The film also features Sidhique and his son Farhan, with Farhan being his inspiration to take on this project.
The creation of the film began in 2016, and after extensive research, Sidhique focused on Amal Iqbal. "I thought having a boy with a physical disability as the lead character would have an impact, so I spent a year looking for the right actor. Although I had my doubts about casting Amal, it ultimately turned out to be a perfect fit. He executed his role perfectly," Sidhique said.
Amal – a full-fledged hero
For Amal, playing Russel in "Akasham Kadann" was more like reliving her own life on camera. Amal Iqbal, a humanities student of over two years at JDT Higher Secondary School, is from Pulikkal, Malappuram, and is paralyzed from the neck down, unable to speak. In addition, he experienced a fear of light and sound. Nevertheless, with the unwavering support of her parents, Amal persevered.
Through rigorous effort, Amal focused on her physical fitness and developed the strength to use a wheelchair. Not only did he attend school, but he also participated in academic and athletic competitions, gaining international recognition. Overcoming his limitations, Amal won national arm wrestling gold medals and became the first Keralite with cerebral palsy to conquer rafting, sailing the Beas River in Himachal Pradesh and the Thejaswini River in Kannur.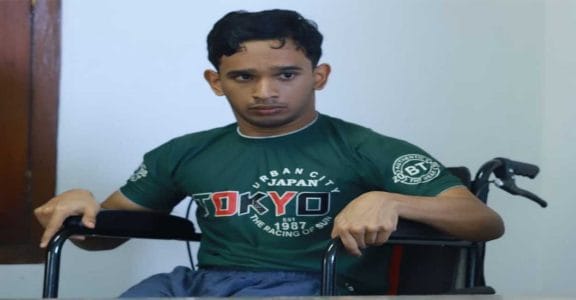 His inspirational achievements won him the Ujwala Balyam Award from the Government of Kerala in 2021 and the Outstanding Diplomacy Award at the Model United Nations (MUN) Parliament held in Muscat in 2019. Recently, he was selected as a delegate for the Y20 Kerala Summit held in Kozhikode, in preparation for the scheduled G20 Summit in India in September 2023. Amal's talents go beyond physical feats, because he regularly excels in quizzes and reading competitions. , and he is now the brand ambassador for a tuition academy.
Amal's motivational speeches keep him busy, sometimes affecting his regular classes. However, thanks to the support of his classmates and teachers, he manages his studies effectively. This care and compassion led Mohammed Iqbal Valappan to encourage parents of children with disabilities to consider sending them to public schools.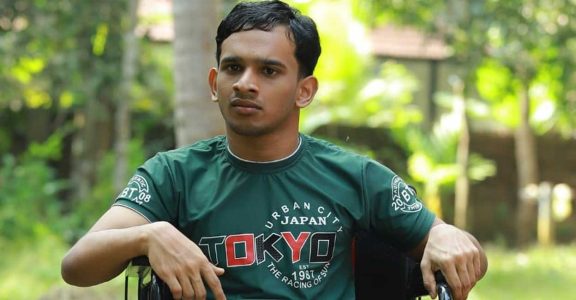 "Amal has a photographic memory. He overcame his disabilities through tireless efforts with our support," Iqbal told Onmanorama. "We strive to provide Amal with the best to bring out his potential. He has received top-notch treatment and training, with a total expenditure of 15 lakhs on surgeries and additional expenses for training and therapies. We are currently looking for a sponsor," Iqbal added.
Sidhique's "Akasham Kadann" has more than 80 actors including renowned names like Vijaya Kumar, Priya Sreejith, Maqbool Salman, Nilambur Ayisha, Kulappully Leela, Ibrahim Kutty, Kollam Shafy and Ansil. Additionally, the film features many disabled children, filmed in Alathiyur and Tirur in Malappuram. Sidhique scripted and produced the film under his banner, Don Cinemas, leaving a lasting impact with his heartwarming and inclusive storytelling.


Also read this Article:
An Overview of Global Events in 2023
In 2023, the world witnessed a myriad of events that left a lasting impact on global affairs. From political developments and economic shifts to environmental challenges and breakthroughs in science and technology, the year was marked by significant changes and a sense of urgency for collective action. Here's an overview of some of the latest world news in 2023.
Political Unrest and Diplomatic Strides:
In the political arena, several regions experienced unrest and geopolitical tensions. The ongoing conflict in the Middle East continued to dominate headlines, with efforts towards peace and stability remaining elusive. However, there were also moments of diplomatic breakthroughs as nations engaged in dialogues to ease tensions and work towards lasting solutions.
Economic Transformations:
The global economy faced both challenges and opportunities. Trade disputes between major powers affected markets, while some countries grappled with debt crises. On the other hand, emerging economies showed resilience and promising growth, fueling optimism for a more balanced global economic landscape.
Technological Advancements:
Innovation surged forward in the tech industry, with breakthroughs in artificial intelligence, renewable energy, and space exploration. Quantum computing achieved milestones, promising radical transformations across industries. Renewable energy sources gained traction, with many countries setting ambitious goals to combat climate change.
Climate Crisis and Environmental Resilience:
As the climate crisis intensified, extreme weather events wreaked havoc in various parts of the world. Wildfires, hurricanes, and floods reminded humanity of the urgent need for climate action. In response, governments and communities across the globe doubled down on efforts to reduce carbon emissions, invest in sustainable infrastructure, and protect biodiversity.
Health and Pandemic Management:
Health remained a global priority as countries continued to combat the COVID-19 pandemic. With the emergence of new variants, vaccination efforts and public health measures remained crucial to curbing the spread of the virus. There were also significant advancements in medical research and technology, offering hope for better preparedness in handling future health crises.
Sports and Cultural Milestones:
Amidst the challenges, the world found moments of joy and unity through sports and culture. International sporting events brought together athletes from diverse backgrounds, promoting solidarity and camaraderie. Cultural exchanges and celebrations showcased the richness of human diversity and fostered mutual understanding.
In conclusion, the year 2023 was a dynamic period filled with significant events that shaped the course of history. From political unrest to technological advancements and environmental challenges, the world witnessed the complexities of the global landscape. While obstacles remained, there were also encouraging developments and collaborative efforts towards a more sustainable, peaceful, and prosperous future for all nations. As we move forward, the lessons learned from these events serve as a reminder of the importance of collective action and cooperation to address shared global challenges.