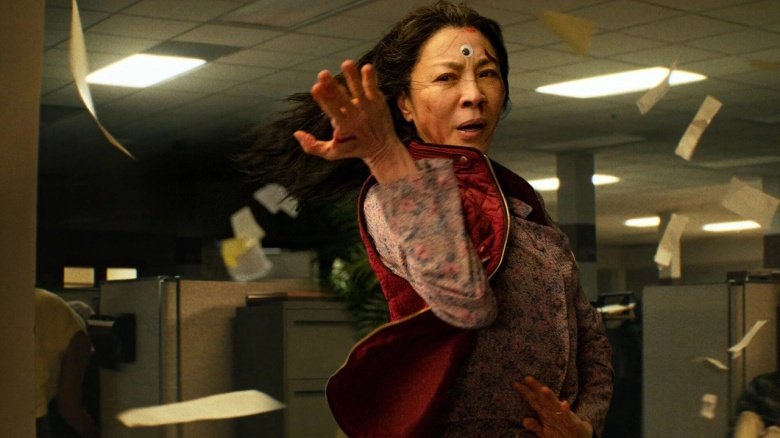 The winners of the 73rd annual ceremony also included "Pinocchio by Guillermo del Toro", "Fire of Love" and "The Bear".
American Cinema Editors announced the winners in 14 categories on March 5 during the 73rd annual ACE Eddie Award. And all five Oscar nominees were among the nominations – albeit split between two categories.
Historically, Eddie's winner for Theatrical Drama has also won the Oscar 13 out of 22 times' but not in the last three years. Whether or not this streak holds remains murky since Oscar nominees "Top Gun: Maverick" and "Everything everywhere all at once"both won trophies at home.
'The Woman King' director Gina Prince-Bythewood received the Golden Eddie Filmmaker of the Year Award, while editors Lynne Willingham and Don Zimmerman received Career Achievement Awards.
BEST EDITED FEATURE (DRAMATIC)
"All calm on the Western Front" – Sven Budelmann, BFS
"Elvis" – Matt Villa, ACE ASE, Jonathan Redmond
"Tár" – Monika Willi
WINNER "Top Gun: Maverick" – Eddie Hamilton, ACE
"The Woman King" – Terilyn A. Shropshire, ACE
BEST EDITED FEATURE (COMEDY)
"The Banshees of Inisherin" – Mikkel E. G. Nielsen, ACE
WINNER "Everywhere All At Once" – Paul Rogers
"Glass Onion: A Mystery at Daggers Drawn" – Bob Ducsay, ACE
"The Menu" – Christopher Tellefsen, ACE
"Triangle of Sadness" – Ruben Östlund, Mikel Cee Karlsson
BEST EDITED ANIMATED FILM
"The Villains" – John Venzon, ACE
WINNER "Pinocchio by Guillermo del Toro" – Ken Schretzmann, ACE, Holly Klein
"Marcel the Shell with Shoes" – Dean Fleischer-Camp, Nick Paley
"Puss in Boots: The Last Wish" – James Ryan, ACE
"Getting Red" – Nicholas C. Smith, ACE
BEST EDITED DOCUMENTARY (FEATURE)
"All the Beauty and the Bloodshed" – Amy Foote, Joe Bini, Brian A. Kates, ACE
WINNER "Fire of Love" – Erin Casper, Jocelyne Chaput
"Goodnight Oppy" – Helen Kearns, ACE, Rejh Cabrera
"Moonage Daydream" – Brett Morgen
"Navalny" – Langdon Page, Maya Hawke
BEST EDITED DOCUMENTARY (NON-CINEMATOGRAPHIC)
"The Diaries of Andy Warhol: Collaboration: Andy and Basquiat" – Steve Ross
WINNER "George Carlin's American Dream" – Joe Beshenkovsky, ACE
"The Last Movie Stars: Luck is an Art" – Barry Poltermann
"Luci and Desi" – Robert A. Martinez
"Pelosi in the House" – Geof Bartz, ACE
BEST EDITED MULTI-CAMERA COMEDY SERIES
"The Conners: Of Missing Minds and Missing Fries" – Brian Schnuckel, ACE
"How I Met Your Dad: Timing Is Everything" – Susan Federman, ACE
WINNER "The Neighborhood: Welcome to the Art of Negotiation" – Chris Poulos
BEST EDITED SINGLE CAMERA COMEDY SERIES
"Atlanta: Andrew Wyeth. Alfred's World." – Kyle Reiter, ACE, Isaac Hagy, ACE
"Barry: 710N" – Franky Guttman
"Barry: From Now On" – Ali Greer
WINNER "The Bear: System" – Joanna Naugle
"Only Murders in the Building: I Know Who Did It" – Shelly Westerman, ACE, Payton Koch
BEST EDITED DRAMA SERIES
WINNER "Andor: One Way Out" – Simon Smith
"Euphoria: Stand still like the hummingbird" – Aaron I. Butler, ACE, Julio Perez IV, ACE
"Euphoria: The Theater and Its Double" – Laura Zempel, Julio Perez IV, ACE, Nikola Boyanov
"Severance: In Perpetuity" – Geoffrey Richman, ACE, Erica Freed Marker, ACE
"Separation: We Are" – Geoffrey Richman, ACE
BEST EDITED FILM (NON-CINEMATOGRAPHIC)
"Fire Island" – Brian A. Kates, ACE
"Hocus Pocus 2" – Julia Wong, ACE
"A Jazzman's Blues" – Maysie Hoy, ACE
"Prey" – Angela M. Catanzaro, ACE, Claudia Castello
WINNER "Weird: The Al Yankovic Story" – Jamie Kennedy
BEST EDITED LIMITED SERIES
"Gaslit: 'The Year of the Rat' – Joe Leonard, ACE
"Obi-Wan Kenobi: Part VI" – Kelley Dixon, ACE, Josh Earl, ACE
"Station Eleven: Unbroken Circle" – Anna Hauger, ACE, David Eisenberg, Yoni Reiss, Anthony McAfee
"The White Lotus: Abduction" – Heather Persons, ACE
WINNER "The White Lotus: Arrivederci" – John M. Valerio ACE
BEST EDITED NON-WRITER SERIES
"Deadliest Capture: Sailor's Delight" – Isaiah Camp, ACE, Joe Mikan, ACE, Alexander Rubinow, ACE
"Formula 1: Drive to Survive: Hard Racing" – Cassie Bennitt, Matt Rudge, Duncan Moir, Nic Zimmerman, Jack Foxton, Neil Clarkson
WINNER "Vice: Killing for Success & Marcos Returns" – Paula Salhany, Brandon Kiefer, Andrew Pattison, Catherine Lee, Victoria Lesiw
BEST TALK/SKETCH SHOW OR SPECIAL VARIETY EVENT
WINNER "A Black Lady Sketch Show: Save My Edges, I'm A Donor!" – Stephanie Filo, ACE, Bradinn French, Taylor Mason, S. Robyn Wilson
"Last Week Tonight with John Oliver: Police Interrogations" – Anthony Miale, ACE, Ryan Barger
"My Next Guest Needs No Introduction with David Letterman: Volodymyr Zelenskyy Special" – Cori Wapnowska, Jon Higgins
BEST EDITED ANIMATION (NON-THEATRICAL)
"Big Mouth: Papa Dia!" – Felipe Salazar
"Bob's Burgers: Some Like It Bot Part 1: Eighth-Grade Runner" – Jeremy Reuben, ACE
WINNER "Love, Death & Robots: Bad Traveling" Kirk Baxter, ACE
ANNE V. COATES AWARD FOR STUDENT REVISION
Adriana Guevara – New York University
WINNER Jazmin Jamias – American Film Institute
Tianze Sun – American Film Institute
Register: Stay up to date with the latest film and TV news! Sign up for our email newsletters here.