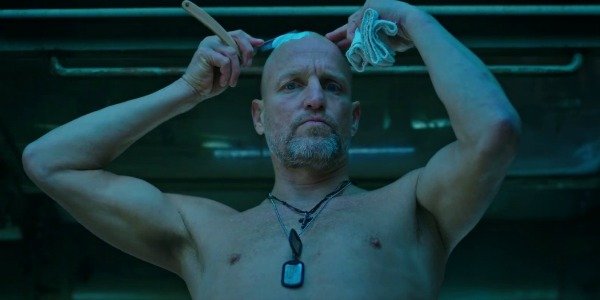 "There was so much technology involved in what we were doing, I was a little intimidated," Harrelson said of "War for the Planet of the Apes."
Woody Harrelson no longer going to war with himself, despite the frustrated look at past roles.
THE "Champions"The actor reflected on his villainous turn in the 2017 film"War for the Planet of the Apesadmitting he felt "rigid" in the role.
"When things are going well, I don't feel rigid. But there are performances where I was like, 'Why couldn't I just release what I was doing?' Ten years later, I'll think of something I should have done in a scene, and I want to rip my head off," Harrelson said. The New York Times Magazine. "'Planet of the Apes' was one of those times when there was so much technology involved in what we were doing, I was a bit intimidated. If I did this part again, I could do it 20 times better.
Harrelson added, "There are several roles that I come back to and I think: why didn't I try this? Why didn't I do this? Why didn't I include a completely different character? But it's probably best to drop those things. They can haunt you."
The 'Natural Born Killers' star reflected on his decades-long career, saying that in 1997 he completed five consecutive films and that it had an impact on his psyche and ultimately the roles that were given to him. offered.
"I was so exhausted. It was my fault," Harrelson said. "I could have easily turned down some of those projects, but in the end, I lost my mojo. Everything that made me want to act was just gone. And right at the end of that time, my second daughter was born, and I wanted to spend time with those girls. But I'd be stupid if I didn't admit that my popularity was probably lower. I made five bombs in a row. You make a film that does not succeed, ugh. But two, three and then five?
He continued: "Then – I can't remember if it was 2001 or 2002 – when I said, 'OK, I'm ready to get back to it. I think, 'I don't know if there will be a ticker parade, but there will definitely be a warm response.' Nothing. No answer."
Harrelson shared that he "even agreed to do this movie that wasn't good" just to jump-start his career.
"I won't go into details, but it was a stupid thing," Harrelson said. "I meet the director, and I'm gonna do it – they do it for like $500,000 – then the guy goes off with somebody else! Didn't call me. Nothing. I'm like, whoa, man, things got tough, but slowly and surely I started to get back to it and things started to get better.
Later in the interview, Harrelson lashed out at COVID-19 production protocols, saying no one should be "forced to get vaccinated" or wear masks three years into the pandemic.
"I'm just like, let's get this nonsense over with. It's not fair to the crews," the 'Zombieland' star said. "I don't need to wear the mask. Why should they? Why should they be vaccinated? the individual? I shouldn't talk about that [expletive]. Makes me angry for the crew. The anarchist part of me, I don't think we should have forced testing, forced masks, and forced vaccinations. It is not a free country. I'm really talking about the crew. Because I can avoid wearing a mask. I can test less. I'm not in the same position as them, but that's wrong. It's three years. Stop."
Harrelson echoed the same sentiment during his "Saturday Night Live" opening monologuecomparing the COVID vaccine companies to the "biggest drug cartels in the world" who conspired to "buy out all the media and all the politicians and force all the people in the world to stay locked up at home".
Register: Stay up to date with the latest film and TV news! Sign up for our email newsletters here.