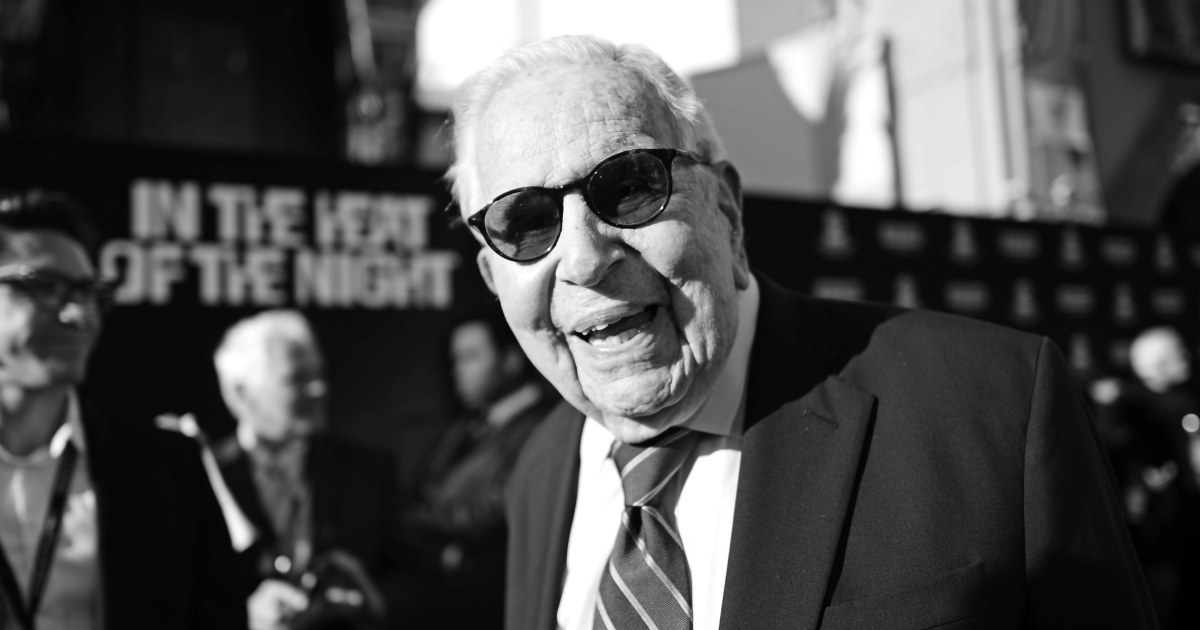 LOS ANGELES — Walter Mirisch, the shrewd, Oscar-winning film producer who oversaw classics such as 'Some Like It Hot,' 'West Side Story' and 'In the Heat of the Night,' has died of natural causes, the Academy of Motion Picture Arts and Sciences said Saturday. He was 101 years old.
Mirisch died Friday in Los Angeles, according to a statement from academy CEO Bill Kramer and its president Janet Yang.
"Walter was a true visionary, both as a producer and as an industry leader," they said, noting that he had served as academy president and academy governor for many years. years. "His passion for film and the Academy never wavered, and he remained a dear friend and advisor. We send our love and support to his family during this difficult time."
Mirisch received the Best Picture Oscar for 1967 "In the heat of the Night," and the company run by him and his brothers also produced the best Oscar-winning films "The Apartment" and "West Side Story".
Born eight years before the first Academy Awards, he was president of the Academy of Motion Picture Arts and Sciences from 1973 to 1977 and received two honorary Oscars, in 1978 and 1983, for lifetime achievement and humanitarian efforts.
As a producer, Mirisch aggressively recruited top filmmakers such as Billy Wilder and Norman Jewison, then gave them the freedom to create the films however they saw fit.
"We gave these filmmakers what they needed," he told the Los Angeles Times in 1983. "Billy could call me and say, 'I'd like to do a shot on so-and-so next.' – and that's all we'd need to know…. We have become, in effect, partners with our administrators.
His company's regular stable of directors included not only Wilder and Jewison, but also Blake Edwards and John Sturges. The company has also produced films by John Ford, John Huston, William Wyler, George Roy Hill and Hal Ashby.
Mirisch entered filmmaking as a teenager, rising from an usher to executive positions at a chain of cinemas before branching out into producing low-budget action films and westerns in the late 1940s.
The company he founded in 1957 with his brother Marvin and half-brother Harold was one of the most successful independent production teams to grow out of the old studio system as television cut movie attendance.
The Mirischs made a string of hits from the 1950s through the 1970s, including "The Magnificent Seven", "Fiddler on the Roof", "The Great Escape", "The Russians Are Coming, the Russians Are Coming", "The Thomas Crown Affair", "The Pink Panther" and its sequel, "A Shot in the Dark".
Their company started with a handful of westerns before producing "Some Like It Hot" in 1959, the comedy Wilder with Marilyn Monroe starring Jack Lemmon and Tony Curtis as transvestite musicians running away from the crowd.
Mirisch was willing to take on unusual projects. A Harvard-educated business executive, he effectively oversaw the business side of things, allowing his filmmakers to focus on their films.
Elmore Leonard – the crime novelist and screenwriter of two Mirisch productions, "Mr. Majestyk" and the 1987 TV movie "Desperado" – dedicated his Hollywood satire "Get Shorty" to Mirisch, calling him "one of the good guys ".
Mirisch was also one of a handful of filmmakers whom Sidney Poitier recognized in his 2002 Oscar speech when he accepted an honorary Oscar for lifetime achievement.
"These filmmakers persevered, speaking through their art to the best of us all," said Poitier, who starred in Mirisch's "In the Heat of the Night" and the sequel "They Call Me Mister Tibbs!"
The Mirisch brothers adjusted their management style on a film-by-film basis, depending on the level of oversight they felt a director wanted or needed. In a 1972 interview in the journal "Films and Filming", Mirisch said that some directors did well as producers, while others showed little interest beyond directing films.
"We've worked with some brilliant directors and producer-directors, and I have to say the relationship with each of them has been totally different," he said.
A team for most of their careers, the Mirisch brothers have also worked in theatre. Before joining the production company Allied Artists in the 1940s, Walter worked as a producer and then production manager and Harold and Marvin held administrative positions.
While at Allied, Walter produced both westerns and a series of low-budget titles in the "Bomba the Jungle Boy" series which starred Johnny Sheffield, who had played Boy in the "Tarzan" films of the 1960s. 1940.
After the death of his older brother, Harold, in 1968, the surviving siblings continued their business with Marvin as president and Walter, the youngest brother, in charge of production. Marvin died in 2002.
Walter Mirisch continued to produce theatrical films into the 1980s. Although the quality and commercial success of his films generally declined, there were still some successes, including Oscar nominations and one Golden Globe for "Same time next year". Other movies that came late in his career include "Midway," "Gray Lady Down," and the 1979 version of "Dracula." He was also an executive producer on a few television projects in the 1990s.
Walter Mortimer Mirisch was born in New York on November 8, 1921. Educated at the City College of New York, he received a bachelor's degree from the University of Wisconsin at Madison in 1942 and a graduate degree in business from Harvard in 1943.
In 1947 Mirisch married Patricia Kahan, who predeceased him. They had three children, Anne, Andrew and Lawrence.
In lieu of flowers, the family asked for donations to the Motion Picture and Television Fund.
A memorial ceremony will take place at a later date.