Apple's big keynote presentation dedicated to the opening of WWDC 2023 has ended two hours long. I'm just as excited about new products as anyone, but who has that much time? If you want to know everything Apple has announced but don't have two hours to watch the video, we've got you covered. Here's a summary of the announcements, with links to our additional content if you'd like to dive in and find out more.
15 inch Macbook Air
Apple
As we have long suspected, the MacBook M2 will have an older brother. It's essentially identical to the 13-inch M2, only with a larger 15-inch display. Prices start at a very reasonable $1,299, with the 13-inch MacBook Air M2 dropping to $1,099.
Learn more about the 15-inch MacBook Air.
Update M2 Ultra and Mac Studio
Apple
Apple has continued with the Mac segment by updating Mac Studio to support the M2 Max and M2 Ultra. While the M2 Max has already been found in the 16-inch MacBook Pro, the M2 Ultra is new. Like the M1 Ultra, the M2 Ultra is two M2 Max chips connected together by an ultra-fast interconnect.
Mac Studio with M2 Max starts at $1999 and with M2 Ultra starts at $3999.
Learn more about M2 Max and M2 Ultra in Mac Studio.
Mac Pro with Apple Silicon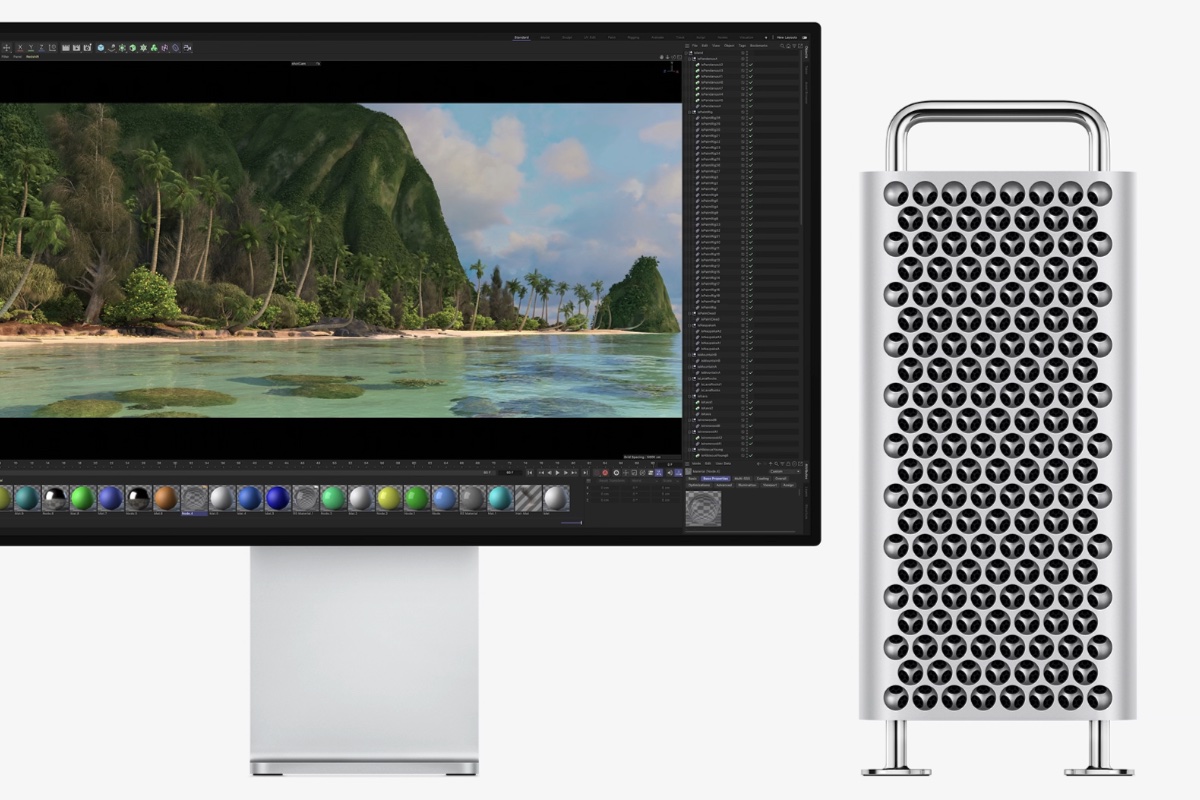 Apple
Mac Studio with M2 Ultra is not enough for you? Apple has finally completed the transition to Apple Silicon with the new Mac Pro. It is built into a chassis identical to the Intel-based model, but equipped with an M2 Ultra, eight Thunderbolt ports, and six PCIe gen 4 slots.
The slots support upgrades like storage, networking, and audio/video interfaces, but it doesn't look like you'll be able to upgrade the RAM or graphics in an Apple Silicon Mac Pro.
Pricing starts at $6,999, exactly $3,000 more than a similarly configured Mac Studio.
Learn more about Mac Pro with Apple Silicon.
iOS 17
Apple WWDC 2023
Naturally, Apple will update iOS on a billion iPhones this fall, and iOS 17 brings a lot of joy. There's a new contact sharing and sharing experience where you simply bring your iPhones close to each other, customizable contact posters, an all-new autocorrect using new technology and interface, real-time voicemail transcription, a new standby mode for chargers, and more. .
Learn more about the biggest features in iOS 17.
iPadOS 17
Apple
The customizable lock screen from iOS 16 is coming to the iPad, but there are other features such as interactive widgets (also in iOS 17), improvements to Stage Manager, FaceTime, Live Activity, and the Health app, just to name a few.
Learn more about iPadOS 17.
macOS 14 Sonoma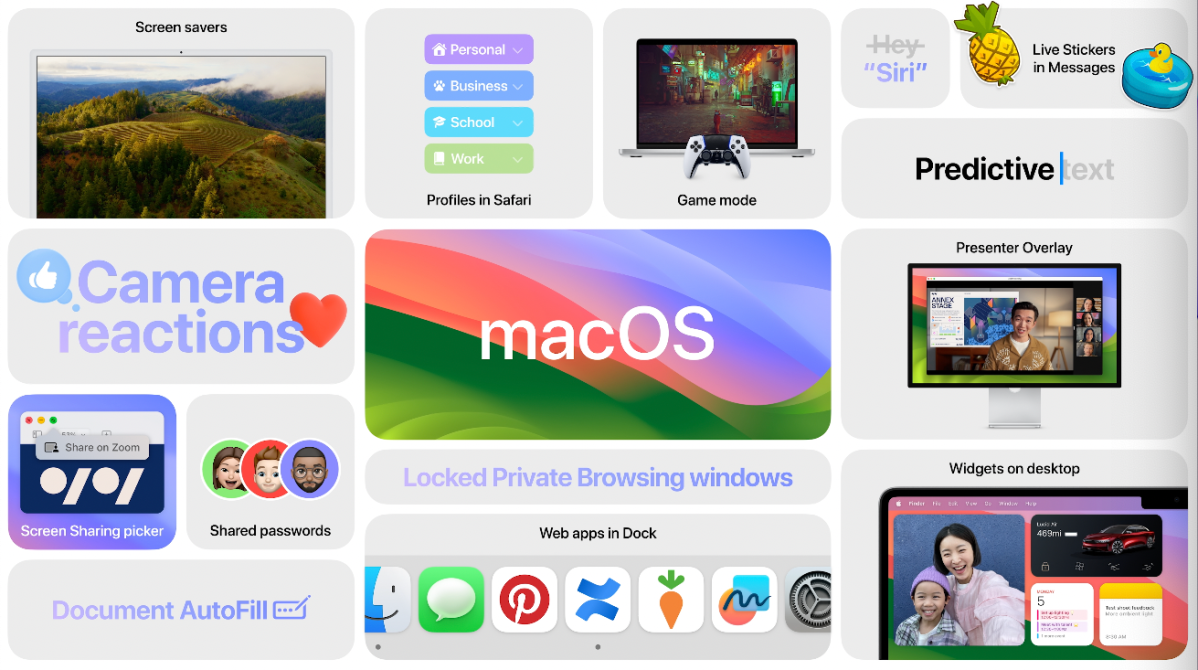 Apple
Version 14 is called macOS Sonoma, and it includes widgets anywhere on the desktop, Game Mode and a new Developer Game Transfer Kit, big updates to Safari, slow-motion video screensavers, and more. In addition, most of the core iOS and iPadOS features, such as improved AutoCorrect and PDF AutoComplete, will also be coming to macOS.
Learn more about macOS Sonoma.
Adaptive sound for AirPods
If you have 2nd generation AirPods Pro, they will get a new Adaptive Audio mode that combines transparency and noise reduction. It cuts out annoying background noise but lets important sounds through. Conversation Awareness lowers the volume of what you're listening to and amplifies the sounds of people talking to you in front of you. Personalized volume uses machine learning to learn your volume preferences for different content types and environments. Auto-switching between Apple devices is faster and more reliable, and with AirPods Pro, Max, or AirPods 3rd generation, you can mute or unmute during a call by quickly pressing the stem (or touching the Digital Crown on AirPods Max). ).
Learn more about the new AirPods features coming this fall.
New AirPlay features
AirPlay gets smarter, with Siri suggestions based on how you start AirPlay sessions from your iPhone or iPad. AirPlay is coming to hotels – you can scan a QR code on a hotel TV and connect to it via AirPlay from your iPhone or iPad to easily stream your own content.
Shared Apple Music and CarPlay playlists
This fall SharePlay will appear in CarPlay. When you connect your iPhone to CarPlay, passengers in your car will receive an invitation on their own iPhone to join the session. They can then control playback, add tracks, and so on.
TVOS 17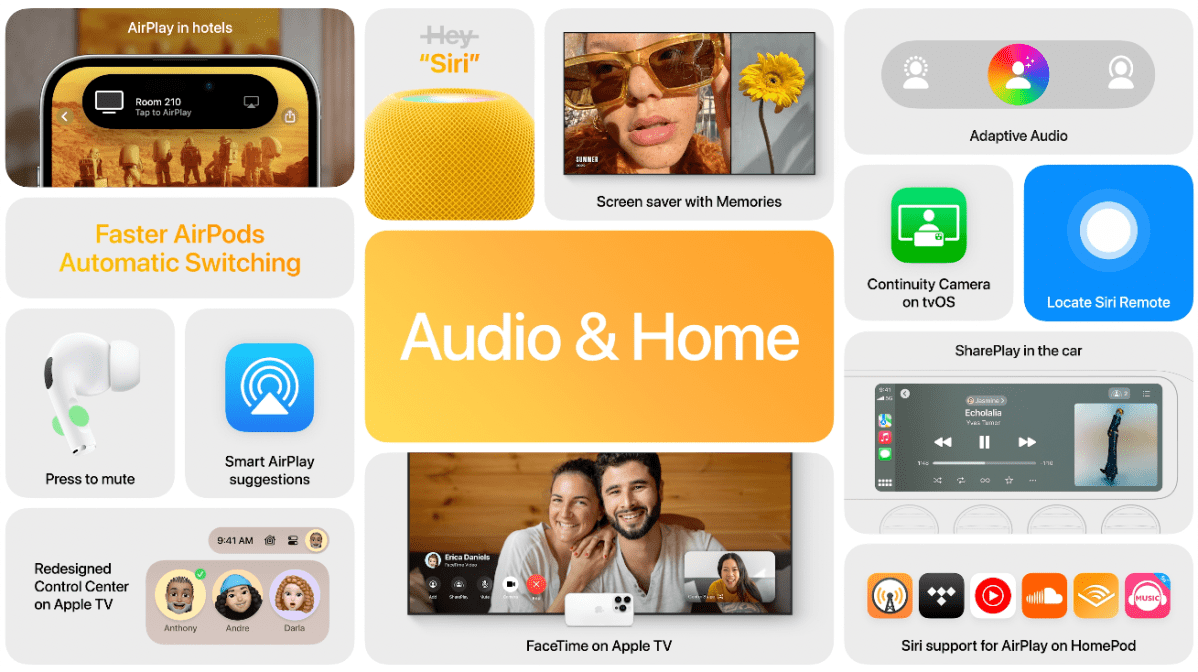 Apple
tvOS 17 has a brand new Control Center, you can use your iPhone to find your Siri Remote, and more. But the big new feature is FaceTime on Apple TV. It uses the Continuity Camera, just like macOS, to wirelessly connect to your iPhone and use it as a camera and microphone. It also works concurrently with SharePlay so you can sync content during a FaceTime call.
Learn more about tvOS 17.
watchOS 10
Apple
In watchOS 10, the Apple Watch has undergone significant changes. If you scroll the crown from the watch face, you will see a set of interactive widgets. The apps themselves have been redesigned in watchOS. Workouts have new features such as cycling, hiking, and new workout APIs for third-party developers. You can register your mood in the mindfulness app and the watch can determine how much time you spend in daylight.
Learn more about watchOS 10.
One more thing… Apple Vision Pro!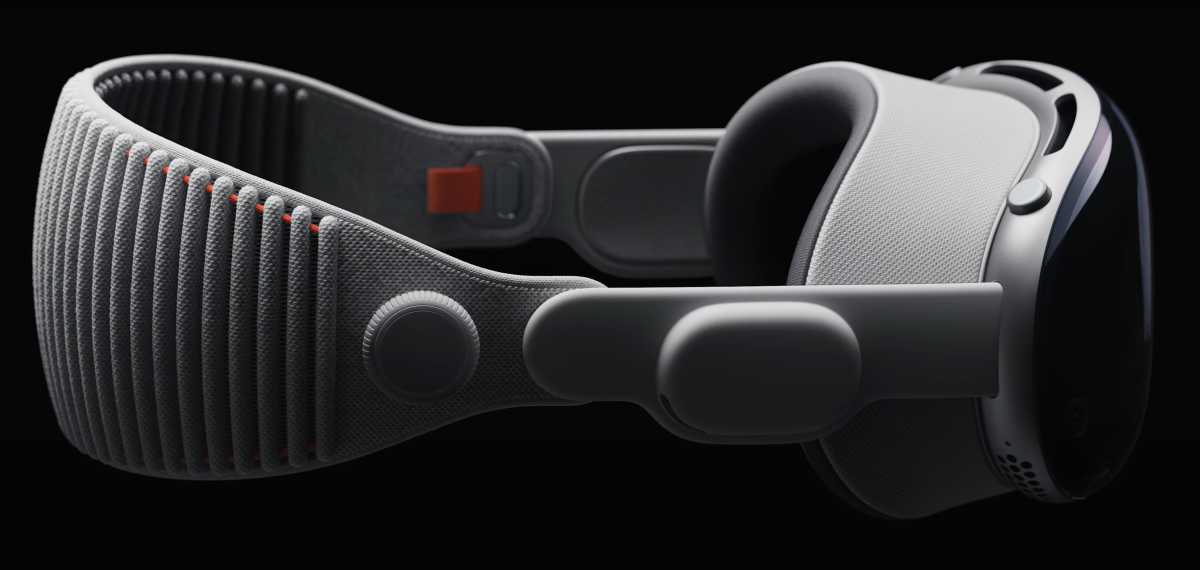 Apple
Much of the keynote was devoted to "One More Thing": the Apple Vision Pro, the poorly guarded secret of Apple's large mixed reality headset.
It features a pair of incredibly high-resolution micro-OLED displays (over 4K per eye!), a curved outer OLED display so others can see your eyes, a crazy amount of sensors and cameras (12 cameras, five sensors, and six). microphones) and is powered by two main chips: the M1 processor and the new R1 processor, which processes all sensor data in just a few milliseconds to avoid latency.
It's Apple's next major computing platform. As the Mac introduced personal computers and the iPhone introduced portable computers, Vision Pro aims to introduce spatial calculations.
It's full of features, from new ways to watch video content in a virtual cinema, to the ability to run all your favorite apps simultaneously in floating windows of any size, new ways to use FaceTime and SharePlay, Mac Virtual Display, take and view 3D photos and videos, and more. Of course, there will be an App Store with custom Vision Pro apps, as well as thousands of compatible iPhone and iPad apps.
Naturally, all this crazy technology is not cheap. The Apple Vision Pro will start at $3,499 when it launches in Spring 2024.
Learn more about Apple Vision Pro.