When the Apple Live Photos feature arrived with iOS 9 on the iPhone 6s, they got fun for a minute. As a photo-video hybrid, Live Photos captures a still image plus a second and a half of video before and after the shutter is pressed, with sound.
They never caught on, mostly because the "live" part usually just records a few useless seconds of nothing. But sometimes you shoot something beautiful that you didn't even know existed and want to share it with your friends. However, if you don't have a Mac, iPhone, or iPad, you won't be able to view the moving part of the image. Viewers on other platforms skip the special "before and after" video feature and see only a static image instead. But actually there is an easy way to share it.
First, make sure you're actually taking a Live Photo by enabling this feature in the Camera app. On your iPhone (or iPad), launch the Camera app and tap the apple icon in the top right corner of the screen. Off position is a white round bull's-eye with a line through it, and the "On" position is deletes the line. Clicking on the bullseye sends a quick alert that reads Live in yellow or live outside in white.
On iPhone 11 or later, you can turn Live Photos on and off using the camera control panel, in which case the bullseye at the top will be yellow instead of white. Live Photos are enabled by default, but you can choose when to use this feature by toggling Save settings V Settings > Camerawhich takes into account the last option you selected.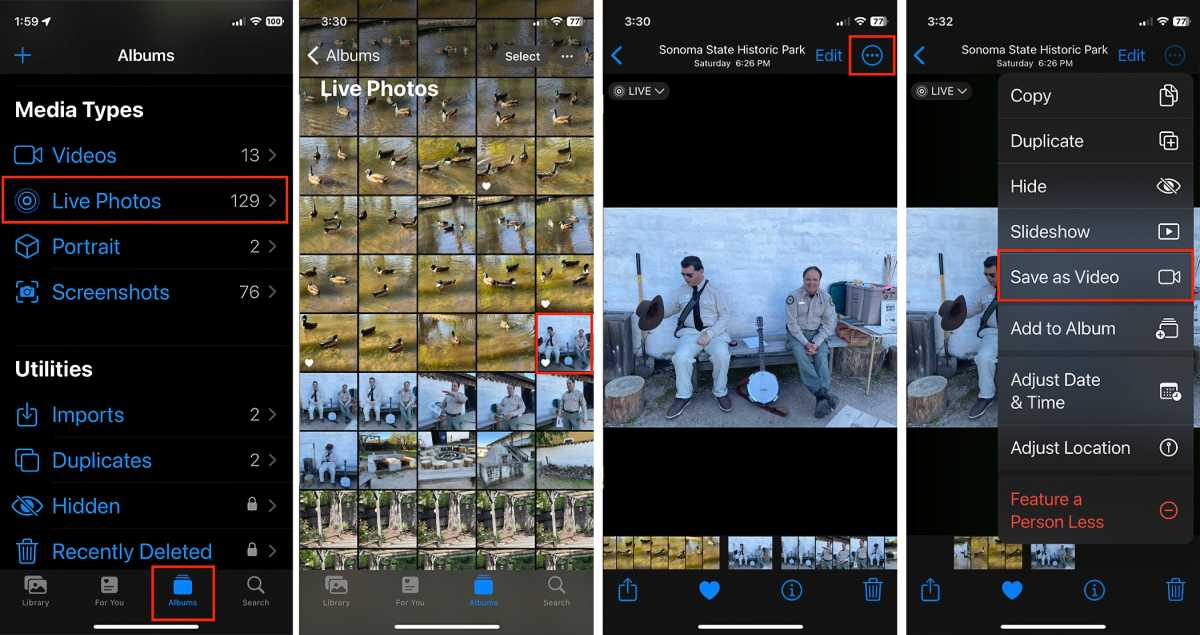 Foundry
Once you've taken a photo, you can make it public by turning it into a video. Go to the Photos app and in the Albums section select Media types and then click Live Photos. Select the photo you want to share. Tap the three dots in the top right corner More button and select from the menu that appears. Save as video. That's all.
To find a new video, go back to Albums and choose Recent. Your video will appear as the last entry in your Camera Roll. From there, you can trim or edit it like you would any other video, or share it as is right away.
You can also use Live Photos with special effects like Loop and Bounce, which are more like GIFs, either constantly looping Live Photos or playing videos in constant forward and backward motion. To do this, tap Live arrow on the left above the photo. The drop-down menu allows you to select the desired effect. Once created, you can share the video through the usual channels: email, text, social media, website, whatever.
Foundry
If you like the Shortcuts app (which was integrated in iOS 13), you can achieve the same result with the Convert LivePhotos to Video shortcut located in the shortcut gallery. If you don't already have it, you can find it to add to your collection. Once you find the shortcut, tap it and navigate to the Live Photo you want to convert, then tap it. The shortcut performs its procedure and then sends a notification that your new video is in the Camera Roll.
Today I Learned is a Macworld column that highlights lesser-known but helpful tips and tricks for Apple users. If you have ideas for future columns, please send an email to michael_simon@idg.com.