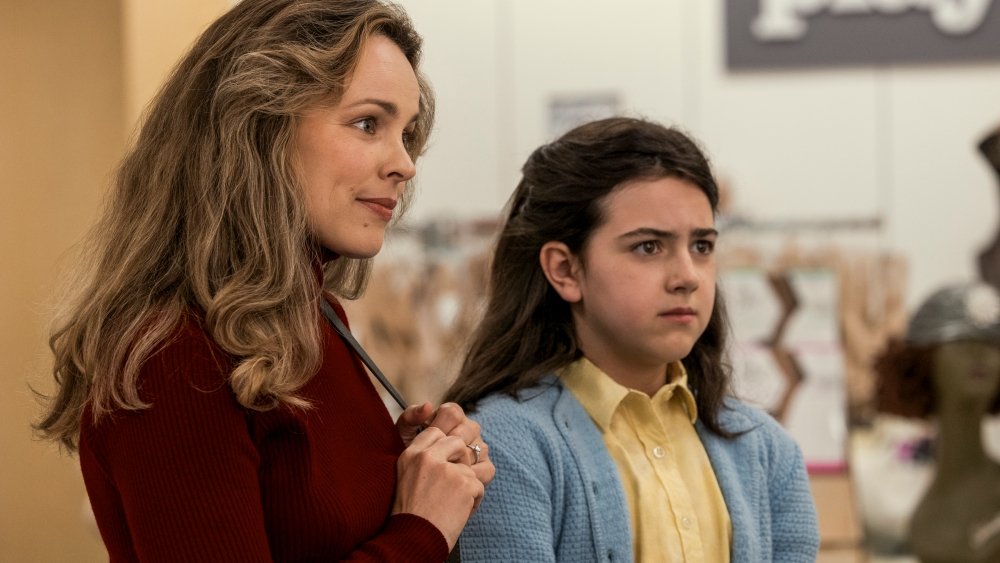 It's another weekend of box office dominance for "The movie Super Mario Bros.which raised a whopping $40 million in its fourth frame. Those ticket sales, down just 33% from the previous weekend, were enough to reign in the weekend's newcomers, including the literary adaptation "Are You There God?" It's me, Margaret", the Finnish war drama "Sisu" and the biopic "Big George Foreman".
After four weeks on the big screen, "Mario" has grossed $490 million in North America and $532 million internationally to rise to even greater prominence as the highest-grossing film of 2023. It's also the first movie of the year cross $1 billion worldwidea distinction held by only five pandemic-era blockbusters.
"Are you there God? It's Me, Margaret" fared best among new releases, opening in third place with $6.8 million in 3,343 North American theaters. It's rocky ticket sales for the $30 million budget coming-of-age story, which is based on Judy Blume's seminal novel, as it's expected to have appeal. limited abroad.
The Lionsgate adaptation, which marks the first time Blume has allowed Hollywood to turn his books into movies, has been well received. It earned an "A" CinemaScore from the public, as well as 99% from critics on Rotten Tomatoes. According to PostTrak, the film's opening weekend audience was 81% female and 81% over the age of 25.
"Coming-of-age stories attract a wider audience when they begin to deal with straightforward teenage romance," says David A. Gross, who runs film consultancy Franchise Entertainment Research, referring to hits like "Juno" and "Lady". Bird." He adds, "So far, the largest audience segment has been women over 45, who are familiar with the book. It's a film about a girl's preteen experience, but so far, girls are not attending in large numbers.
So the studio hopes positive word-of-mouth will carry "Margaret" through Mother's Day in mid-May. Abby Ryder Fortson ("Ant-Man and the Wasp") plays the 11-year-old protagonist, who grapples with puberty and religion as her family (Rachel McAdams and Benny Safdie play her parents) moves from New York to the suburb.
Elsewhere, 'Sisu' and 'Big George Foreman' failed to connect with audiences, barely (or even not) reaching the top 10 at the domestic box office despite playing in thousands. of rooms.
"Sisu," a high-octane Nazi thriller Lionsgate acquired from the Toronto Film Festival, debuted at No. 10 with $3.2 million from 1,006 theaters. That's far fewer screens than the average national broadcast. The well-narrated film, written and directed by Jalmari Helande, is set during the desperate days of World War II as a lone prospector crosses paths with Nazis on a scorched-earth retreat in northern Finland.
The opening of Sony's "Big George Foreman: The Miraculous Story of the Once Opener and Future World Champion" did even worse, landing in 11th place with a dismal $3 million from 3 054 cinemas. Khris Davis plays the world heavyweight boxing champion in the biopic, which resonated with audiences (as evidenced by his "A-" CinemaScore) but not with critics (he holds 45% on Rotten Tomatoes). The PG-13 movie has a price tag of $32 million, so it will struggle to turn a theatrical profit unless momentum picks up in the coming weeks.
"George Foreman was a champion athlete who led a very interesting life, but the theatrical standard for sports biographies is, 'Did they change the world?' as did Muhammad Ali and Jackie Robinson," says Gross of Franchise Entertainment Research. "Reviews aren't enthusiastic."
Elsewhere at the domestic box office, remnants — from this decade and others — rounded out the top five.
"Evil Dead Rise," a supernatural horror sequel from Warner Bros. and New Line, took second place with $12.2 million from 3,417 theaters. That's a 50% drop from its debut, which is standard for the genre. So far, "Evil Dead Rise" has grossed $44.4 million in North America and $42 million internationally. These are promising returns as the $15 million budget film was originally slated to hit HBO Max before getting a mainstream theatrical release.
In fourth place, "John Wick: Chapter 4" added $5 million across 2,481 sites in its sixth weekend of release. To date, the film has grossed $176 million domestically and $375 million worldwide. It's the highest-grossing entry in the Keanu Reeves-led action franchise, surpassing 2019's "John Wick: Chapter 3 – Parabellum" ($328 million).
"Star Wars: Return of the Jedi" — yes, the one from 1983 — took fifth place with around $4.6 million from just 475 theaters. Disney brought the film back to theaters to commemorate its 40th anniversary and proved that the fandom remains strong. After several re-releases, "Return of the Jedi" has grossed $311 million in North America and $475 million worldwide.
In limited release, the Sundance award winner "Polite Society" crashed with $800,000 from 927 theaters, which translates to a dismal $858 per location. Nida Manzoor directed the film, a wacky genre mashup about two sisters. The youngest, who dreams of becoming a martial artist, thinks she must save her older brother from his impending marriage. Focus Features distributes "Polite Society," which holds 91% on Rotten Tomatoes but nabbed a "B+" CinemaScore.
In Variety reviewchief film critic Peter Debruge compared the film to cult films like 'Scott Pilgrim vs. the World', writing, "if 'Polite Society' can find its audience it has the makings of a touchstone generational."