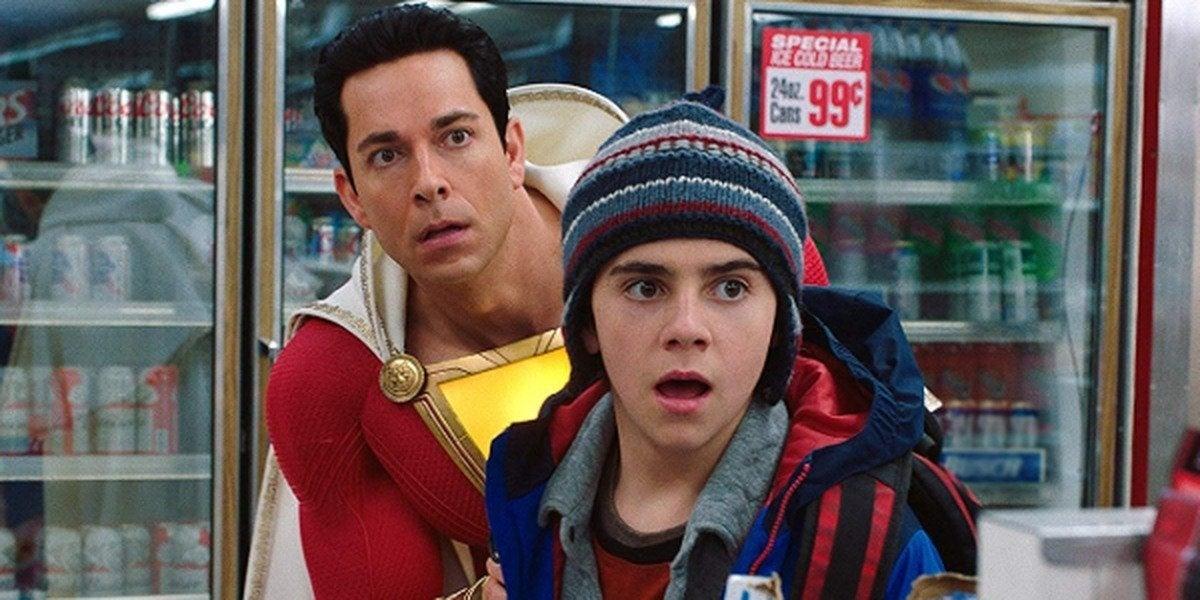 Warner Bros. Pictures and New Line Cinema are set to release 2019's sequel Shazam! movie and it feels like a major step up from the first movie. Of everything we've seen in the trailers For Shazam! fury of the gods, it looks like the "Shazamily" is going to have a hard time taking on the film's antagonist. Helen Mirren, Lucy Liu, and Rachel Zegler have joined the franchise as the Mean Girls of Atlas, and it's gonna take whatever Billy Batson/Shazam! must emerge victorious. The plot of the first movie is basically a wizard who gives his powers to a teenager and he then shares those abilities with his foster family to take on the villainous Dr. Sivana. ComicBook.com's Brandon Davis recently had the chance to speak with Asher Angel and Jack Dylan GrazerWho's playing Freddy Freeman in both films, where the latter reveals that in the sequel his character takes advantage of his abilities in a unique way.
"He tries to woo women," Grazer revealed. "He's trying because, you know, he's blossomed into adulthood and he's, I think, richly, he's kinda clumsy, neurotic, spas. But he's really trying to love, you know, to rule it because he finds this girl at school whose kind of, oh my god, it's so special and he wants to hook up. But he uses the superhero thing as leverage, of course. Like I I'd do, I'd be like, 'oh yeah, I did that movie, Shazam!, anyway I'm an actor. I'm actually an artist first, but do you know what your name is again?' You know, up front, I think like most boys, they feel like they have to compensate."
What is the Shazam! About the sequel?
The next big movie DC Studios to go out will be Shazam! Fury of the gods. Warner Bros. Pictures and New Line describe the film as follows: "Endowment with the powers of the gods, Billy Batson and his adoptive companions are still learning to juggle teenage life with adult superhero alter-egos. But when the Daughters of Atlas, a vengeful trio of Old Gods, arrive on Earth in search of the magic stolen from them long ago, Billy – aka Shazam – and his family are thrown into a battle for their superpowers, their lives and the fate of their world.
Shazam! Fury of the gods stars returning cast members Zachary Levi (Thor: Ragnarok) like Shazam; Angel Asher (Andi Maclisten)) as Billy Batson; Jack Dylan Grazer(It Chapter Two) as Freddy Freeman; Adam Brody (Promising young woman) as the superhero Freddy; Ross Butler (Raya and the last dragonlisten)) as superhero Eugene; Megan Good (Day shiftlisten)) as the superhero Darla; DJ Cotrona (GI Joe: Retaliation) as the superhero Pedro; Grace Caroline Currey (Annabelle: Creation) as Mary Bromfield/Super Hero Mary; Faithe Herman (It's us) as Darla Dudley; Ian Chen (A dog's journeylisten) as Eugene Choi; Jovan Armand ("Second Chances") as Pedro Pena; Marta Milans (white lines) as Rosa Vasquez; Cooper Andrews (The Walking Dead) as Victor Vasquez; with Djimon Hounsou (A Quiet Place Part II) as an assistant. Joining the cast are Rachel Zegler (West Side Story), with Lucy Liu (kung fu panda franchise) and Helen Mirren (F9: the fast saga)."
The film is directed by David F. Sandberg (Shazam!, Annabelle: Creation) and produced by Peter Safran. Fury of the gods was written by Henry Gayden and Chris Morgan. Shazam! Fury of the gods in theaters March 17!
What do you think of Jack Dylan Grazer's comments? Can't wait to see Shazam! Fury of the gods? Let us know in the comments below or by hit our writer @NateBrail on Twitter!