Latest Technology News: Samsung Galaxy Z Flip 5 Launch Roundup: Expected Price in I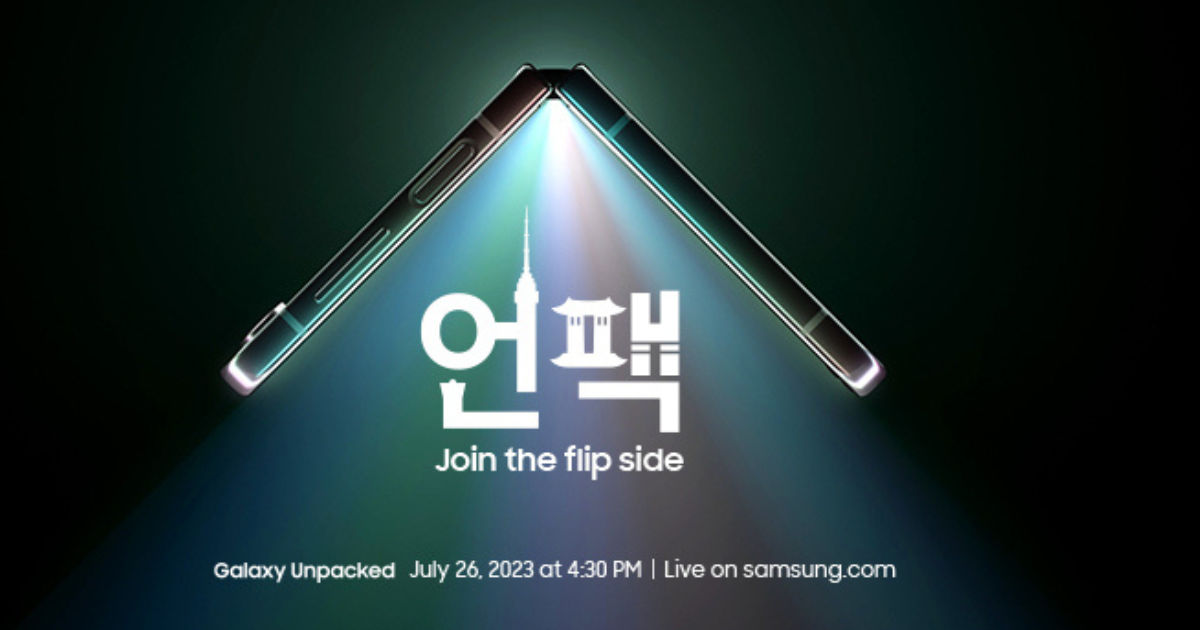 Samsung is only a few days away from launching its new Galaxy foldable and flip phones in the market. The company is set to bring two foldables this year as part of the Galaxy Z Fold and Flip lineup. We already know they will be called the Galaxy Z Fold 5 and the Galaxy Z Flip 5, but here we are focusing on the flip model which is not only the more affordable of the two but also has more competition in the market with brands like Oppo, Motorola waiting in the wings.
The Galaxy Z Flip 5 model is expected to be a definite upgrade over its predecessor, with all eyes on to see if the company finally manages to deliver a functional exterior display, which others in the segment have done. We already have an idea of ​​the expected features, and here we take a closer look at the Galaxy Z Flip 5 and what Samsung promises with the new flip phone.
Samsung Galaxy Z Flip 5 launch date, event time, where to watch online
The Samsung Galaxy Z Flip 5 will be launched alongside the Galaxy Z Fold 5 at the Galaxy Unpacked event in Seoul on Wednesday, July 26. The launch event starts at 4:30 PM IST and you can tune into Samsung's YouTube channel, Samsung.com and Samsung India Newsroom to catch the live stream of all the updates.
Samsung Galaxy Z Flip 5 Expected Price in India
The Samsung Galaxy Z Flip 5 is unlikely to cross the Rs 1 lakh price bracket again, and Samsung's new flip phone is rumored to cost around Rs 90,000 for buyers in India. Samsung is expected to have only one variant of the phone which should contribute to an aggressive take on the product and also give it more headroom to compete with other flip phones in this range.
Expected sale date of Samsung Galaxy Z Flip 5 in India
The sale of the Samsung Galaxy Z Flip 5 in India could start right after the launch this week. We wouldn't be surprised to see Samsung launch sales of the phone in the first week of August.
Samsung Galaxy Z Flip 5 Specs and Expected Features
Samsung has a lot at stake with the upgrades to its fifth-generation flip model now that the competition is getting fiercer and rumors are hinting at possible changes that should get everyone excited.
New hinge for better durability?
Samsung seems to have changed the design of the Galaxy Z Fold 5 and Z Flip 5 models this year. The new hinge mechanism is widely expected to be part of the design overhaul, which will likely help the company deliver a sleeker design, which is what people have been asking Samsung to make it easier to use and not a bulky unit. We don't really know the exact details of the new hinge just yet, so it's up to Samsung to tell everyone what the new changes bring to the table.
The big cover screen is here
Everyone has been asking Samsung to put a bigger cover screen on its next flip phone, and based on the phone's design leaks, it looks like those prayers have been answered. Reports claim that the Galaxy Z Flip 5 will feature a 3.4-inch screen which is only slightly smaller than the 3.6-inch screen of the new Moto Razr 40 Ultra. This screen is unlikely to have a high refresh rate and will offer Full HD+ resolution as mentioned in the leaked details.
To get you even more excited about this, Sammobile claims that Samsung will have Google apps like Maps, Messages, and YouTube optimized to work well on the cover screen. We can't wait to see these claims come to fruition during the demo portion of the launch event.
Nothing special about the cameras
While the design and display could see a major overhaul, the Galaxy Z Flip 5's cameras might come as no surprise. All the leaks in this regard once again point to a dual-camera setup on the back, with a 12MP dual-camera setup expected to be offered on the new flip phone just like its predecessor.
The front of the phone is expected to have a 10MP shooter, also unchanged from the previous model. We hope Samsung opts for a different sensor to give it an extra edge with its image quality, which could still be a strong point for the company against its rivals.
Other Specifications and Features
As for the other features of the Galaxy Z Flip 5, Samsung is expected to offer a 6.7-inch AMOLED display with 120Hz refresh rate and FHD+ screen resolution support. The phone is a flagship model which suggests that Samsung might give it the Snapdragon 8 Gen 2 chipset with 8GB of RAM as most rumors say, but won't be surprised to see a 12GB RAM option. The storage variants can go up to 256GB maximum and you should get One UI 5.1 out of the box.
Samsung is expected to pack a 3,700mAh battery on the Galaxy Z Flip 5 which should support 25W wired charging and 10W wireless charging speeds. Just like other high-end Samsung phones, don't expect the charger to come in the box.


Also read this Article:
An Overview of Global Events in 2023
In 2023, the world witnessed a myriad of events that left a lasting impact on global affairs. From political developments and economic shifts to environmental challenges and breakthroughs in science and technology, the year was marked by significant changes and a sense of urgency for collective action. Here's an overview of some of the latest world news in 2023.
Political Unrest and Diplomatic Strides:
In the political arena, several regions experienced unrest and geopolitical tensions. The ongoing conflict in the Middle East continued to dominate headlines, with efforts towards peace and stability remaining elusive. However, there were also moments of diplomatic breakthroughs as nations engaged in dialogues to ease tensions and work towards lasting solutions.
Economic Transformations:
The global economy faced both challenges and opportunities. Trade disputes between major powers affected markets, while some countries grappled with debt crises. On the other hand, emerging economies showed resilience and promising growth, fueling optimism for a more balanced global economic landscape.
Technological Advancements:
Innovation surged forward in the tech industry, with breakthroughs in artificial intelligence, renewable energy, and space exploration. Quantum computing achieved milestones, promising radical transformations across industries. Renewable energy sources gained traction, with many countries setting ambitious goals to combat climate change.
Climate Crisis and Environmental Resilience:
As the climate crisis intensified, extreme weather events wreaked havoc in various parts of the world. Wildfires, hurricanes, and floods reminded humanity of the urgent need for climate action. In response, governments and communities across the globe doubled down on efforts to reduce carbon emissions, invest in sustainable infrastructure, and protect biodiversity.
Health and Pandemic Management:
Health remained a global priority as countries continued to combat the COVID-19 pandemic. With the emergence of new variants, vaccination efforts and public health measures remained crucial to curbing the spread of the virus. There were also significant advancements in medical research and technology, offering hope for better preparedness in handling future health crises.
Sports and Cultural Milestones:
Amidst the challenges, the world found moments of joy and unity through sports and culture. International sporting events brought together athletes from diverse backgrounds, promoting solidarity and camaraderie. Cultural exchanges and celebrations showcased the richness of human diversity and fostered mutual understanding.
In conclusion, the year 2023 was a dynamic period filled with significant events that shaped the course of history. From political unrest to technological advancements and environmental challenges, the world witnessed the complexities of the global landscape. While obstacles remained, there were also encouraging developments and collaborative efforts towards a more sustainable, peaceful, and prosperous future for all nations. As we move forward, the lessons learned from these events serve as a reminder of the importance of collective action and cooperation to address shared global challenges.