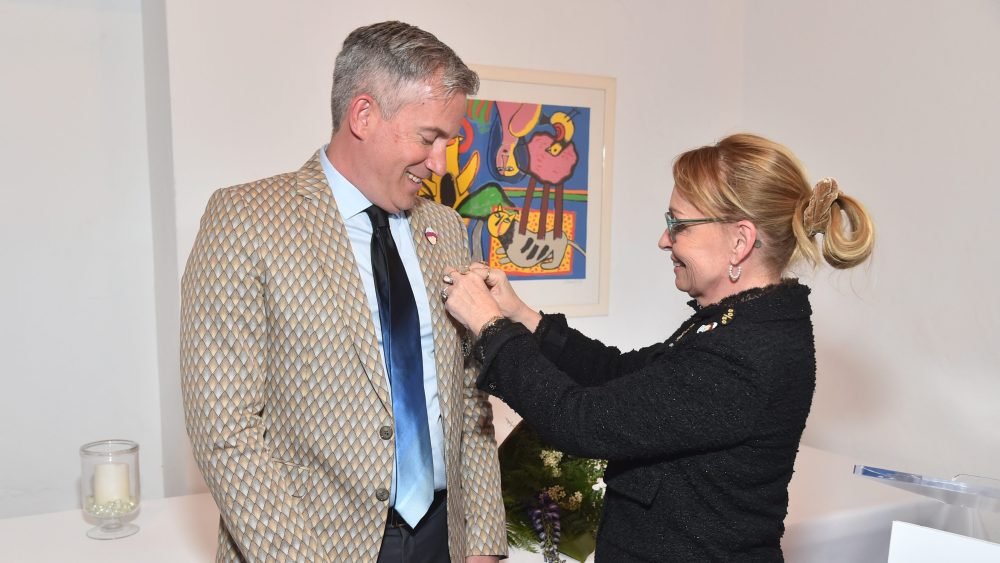 On the eve of the coronation of King Charles III, VarietyIt is Chief film critic Peter Debruge has been named Chevalier in the Order of Arts and Letters for his long dedication to supporting French cinema. The French government awards the honour, which stands for Chevalier de l'Ordre national des Arts et des Lettres, to creative and literary personalities who have contributed to French culture over the years. Past recipients range from Dennis Lim to Wes Anderson.
The event took place Friday at the Beverly Hills residence of French Consul General Julie Duhaut-Bedos, who hosted the ceremony with Rosalie Varda, daughter of director Agnès Varda. "We are gathered today to celebrate the remarkable career of Peter Debruge and his strong relationship with France," said Duhaut-Bedos. "French cinema could not have dreamed of a better lover from a distance," she continued.
Presenting the medal to Debruge, Rosalie Varda spoke of her deep bond with her mother, which began when they met at the 2011 Cannes Film Festival and blossomed over the years as he found the opportunity to draw attention to one's career as an outsider artist on many times. By the time the Academy recognized Agnès with an honorary Oscar in 2017, the two had grown close enough that Debruge was invited to celebrate the night with the filmmaker and her family.
His unwavering love and support for French films, Varda said, includes his oversight of Variety 10 directors to watch, which recently included Alice Diop, Ladj Ly and Julia Ducournau. Varda applauded his commitment to not just French film culture, but world cinema in general, describing a visit Debruge made to Vienna, when he arranged to meet Michael Haneke during his office hours, where the two spoke in French for an hour.
"I am deeply honored by this distinction," said Debruge. "For a quarter of a century, my vocation has been to defend the talent of actors and authors, and my great fortune has been to work for Varietya magazine that believes in the power of cinema.
After thanking those present – a group that included colleagues, friends and a 97-year-old grandmother from Debruge – he concluded: "I would like to hug my spiritual grandmother, Agnès Varda, for all the ways she inspired me."
Debruge, who was previously awarded a Palme d'Or in the Order of the Crown by the country of Belgium, was a Variety critic and editor since 2005. He spent two years in Paris as the publication's chief international film critic. He has written more than 2,000 film reviews, as well as an essay for the catalog of the exhibition "Agnès Varda: the director's inspiration", to be published this fall. On Monday, Debruge will meet Rosalie Varda at the Academy Museum, where he will host a panel "Agnès Varda in California" with Marion Cotillard.