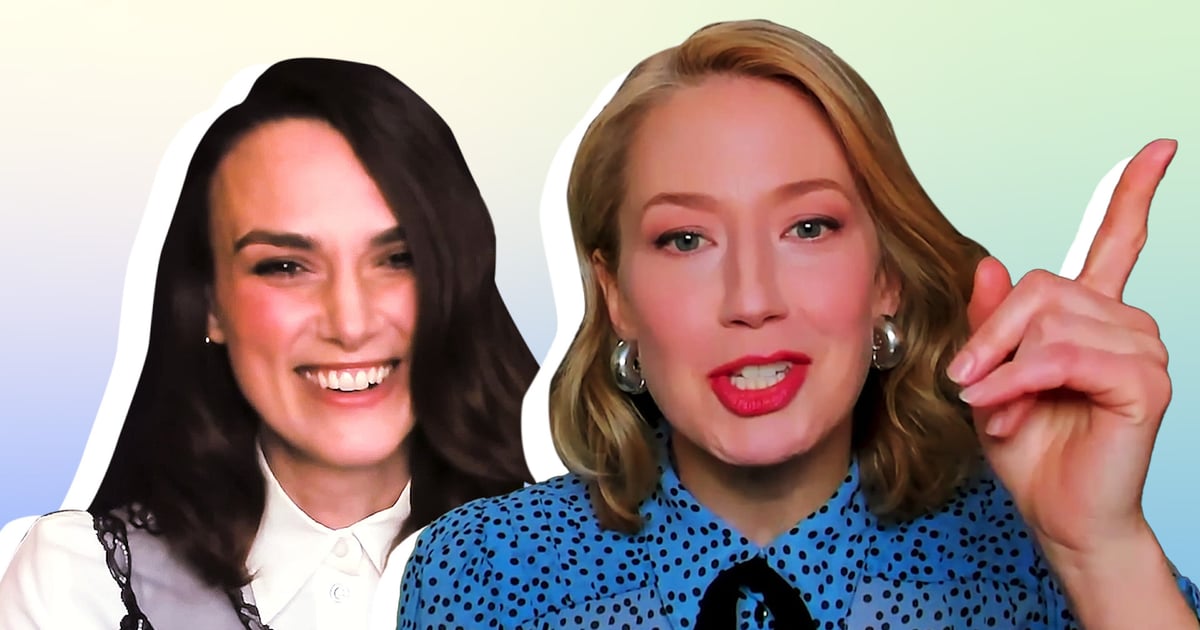 Keira Knightley is a "Succession" fan, and her loyalty is to one man: Tom Wambsgans. Tom is played by Matthew Macfadyen, who won the Emmy for the role last fall. Knightley and Macfadyen have appeared on screen together three times, but perhaps played their most iconic role in 2005's "Pride & Prejudice," in which Knightley played Elizabeth and Macfadyen was Mr. Darcy. And talking to POPSUGAR about his new movie "The Boston Strangler" Knightley can't help but praise his former co-star.
"I've been incredibly lucky to work with Matthew three times," she says; the couple also teamed up for 'Anna Karenina' in 2012 and 'The Nutcracker and the Four Realms' in 2018. She explains, "It's such a joy. He's so funny. His performance in 'Succession' – I'm going to use a big word here – it's genius." Knightley's 'Boston Strangler' co-star Carrie Coon, also a 'Succession' fan, adds, "He's amazing."
"Extraordinary," repeats Knightley. "He's so funny. I'm incredibly happy for him. He's one of the nicest men in the world and what a talent," she said. "I always look for him. If I, when I see him, I look for him. He's wonderful."
Does Knightley think Tom will eventually win the game of "Succession" in the final season and take over the business? She's optimistic about making a big prediction, but adds with a laugh, "You know, something's going to happen."
In "Boston Strangler", Knightley and Coon play real-life reporters Loretta McLaughlin and Jean Cole, respectively, who told the story of the Boston Strangler murders in the 1960s. In the end, 15 women were murdered, and McLaughlin and Cole had to fight sexism to make people care about the victims — and even to have a chance to report the story.
"I had never heard of these journalists, and what they did was extraordinary," says Knightley. "Their careers have been amazing. The fact that they did that when they had kids at home, and still managed to be amazing career women, amazing journalists, and amazing mothers is one thing. unbelievable. So I think that's why I felt like it was so important to point that out."
The two want to find more chances to tell under-shared stories of influential women, but admit it's difficult. "Unfortunately, it's very difficult to uncover these stories," Coon says. "The ones we know are the ones that have been told. And so it's hard to know where to start to find these women because they're so underexplored." "I'm always on the lookout for books," she adds.
Knightley and Coon are no strangers to period dramas. Coon is currently playing on HBO "Golden age", in the 1880s, and she has already appeared in another newspaper drama, "The Post", set in 1971. Knightley's many period dramas, meanwhile, include the Regency set "Pride & Prejudice "; The Imitation Game," set during World War II, and "The Duchess," set in the 18th century. The "Boston Strangler" costumes appear to be simpler than other heavyweight period wardrobes, but Coon says that's actually not true. .
"You would think, except I had to wear hip pads," Coon says. Period skirts, she said, twisted on her, so she had to add silicone pieces to hold them in place. "In 'The Gilded Age' the hip pads are built into the corset. You don't have to worry about that."
Watch the video above for more on Knightley and Coon. "Boston Strangler" premieres on Hulu on March 17.