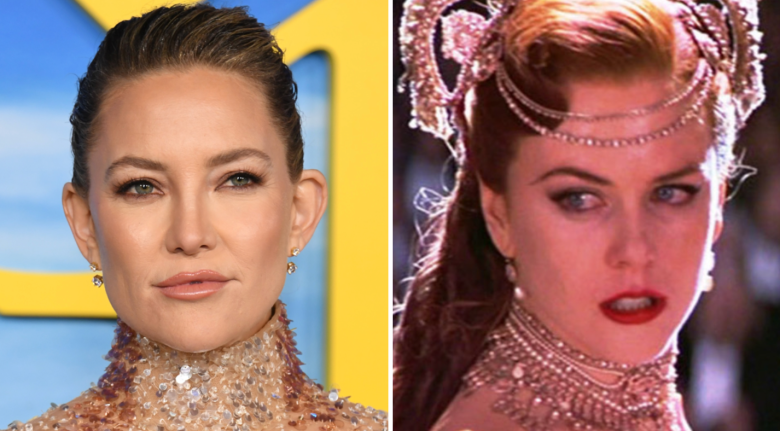 "I was disappointed," Hudson recalled losing the role following a "hardcore" audition process.
Kate Hudson learned to say come what may when it comes to landing musical roles.
The 'Glass Onion' star recalled losing the lead role to Satine in Baz LuhrmannThe 2001 musical epic "Moulin Rouge!" Hudson, then 22, landed an Oscar nomination for 'Almost Famous' the year before, but ultimately the role went to 34 Nicole Kidman.
"I really wanted this role and it was written at the time for a 19-year-old girl, I believe," Hudson said during "The world's first podcast" (via The Hollywood Reporter). "Then what happened was I was kind of in the audition process and then Nicole [Kidman] had a relationship with Baz and wanted to do it. And of course it was like, 'I guess Nicole Kidman is doing it.'"
Hudson recalled the "hardcore" audition process that led her to fall "so in love" with visionary writer-director Luhrmann.
"He is so wonderful. And energetically, I felt very connected to the way he does things," Hudson said. "So I was gutted. Of course, totally understood, because it's Nicole. It couldn't be more different…I really wanted this role.
The 'How to Lose a Guy in 10 Days' star added, "I try not to think about things like that. You know how that thing like, 'Oh, one decision could change the trajectory of your life?' I never want to think that way.
"Red Mill!" went on to earn eight Oscar nominations, including a Best Actress nod for Kidman. The film won two Academy Awards for Best Costume Design and Best Art Direction.
Luhrmann previously told IndieWire that it was difficult to even get "Moulin Rouge!" funded before casting.
"What I think is the big reality is that when I started with 'Moulin Rouge!' I must have heard 'The Musical Can Never Work Again' so many times. And even when 'Moulin Rouge!' Red!" came out, we had to fight tooth and nail just to make sure he wasn't bludgeoned to death like a baby seal," the 'Elvis' author said. has more question in anyone's mind 'should they bother doing a musical?' Most financiers and studios say "Where is My musical? Yeah, yeah, sci-fi is fine, but I really need a musical.'"
Of course, Hudson isn't the only blonde bombshell who didn't star in a famous musical production. Amanda Seyfried recalled how "devastating"It was to not land Glinda the Good Witch in the upcoming two-part 'Wicked' movie.
Register: Stay up to date with the latest film and TV news! Sign up for our email newsletters here.