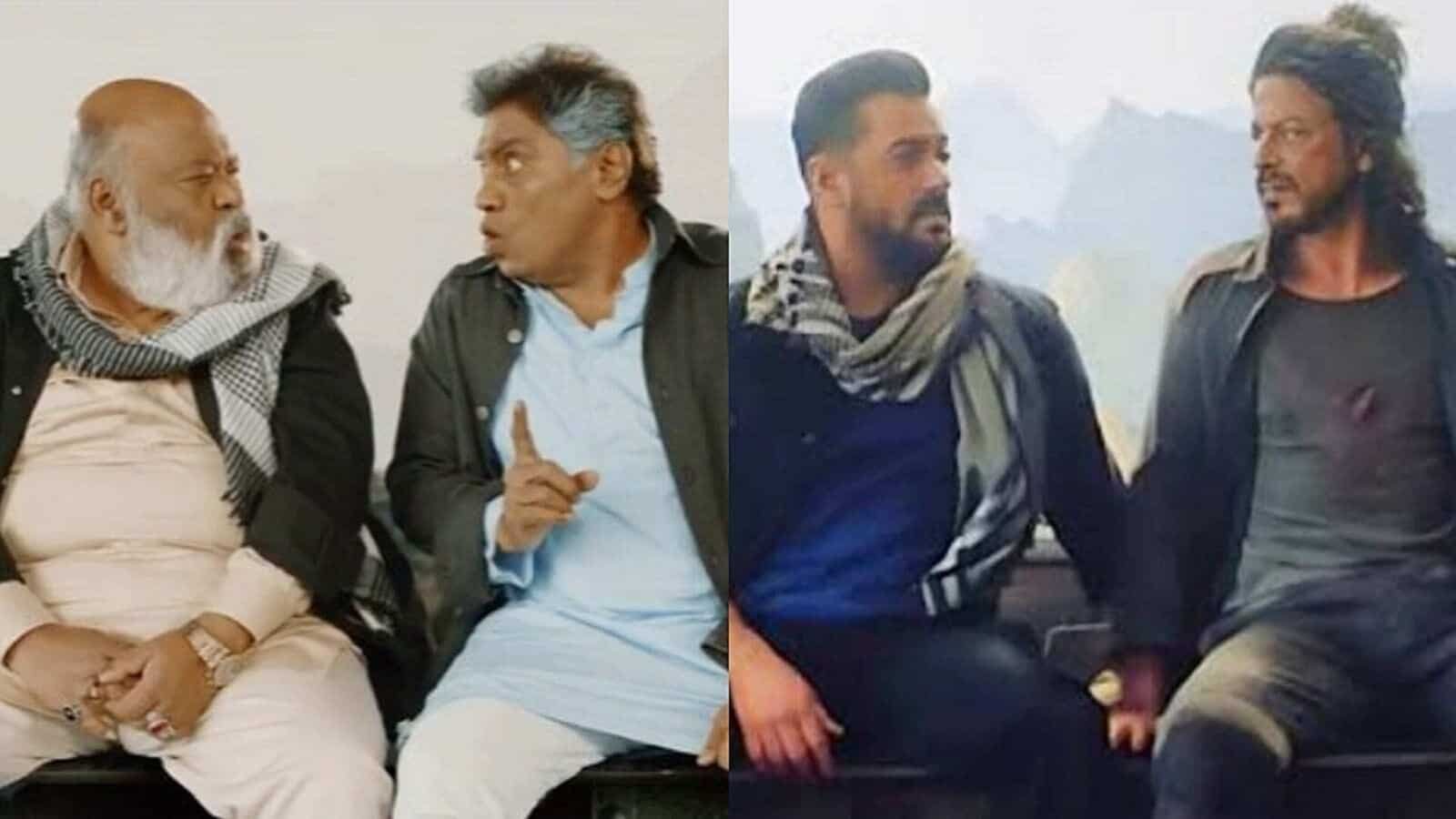 Shah Rukh Khan and Salman KhanPathaan's final scene showed the two discussing younger spies who might succeed them. Shah Rukh's Pathaan and Salman's Tiger ended up rejecting everyone in the process. The end credits scene was one of the highlights of Shah Rukh's comeback film, Pathaan. Now veteran actors Saurabh Shukla and Johnny Lever, who are known for their comedic timing, have recreated the Shah Rukh and Salman scene to hilarious effect in the promotional teaser for their upcoming comedy show, Pop Kaun. Read also : Mira Rajput says she 'had a blast' watching Salman Khan and Shah Rukh Khan on the big screen at Pathaan
Pop Kaun is a comedy created by Farhad Samji, who directed films such as Housefull 4 and Salman Khan's upcoming action film Kisi Ka Bhai Kisi Ki Jaan. Pop Kaun will soon arrive on Disney+ Hotstar. On Thursday, the OTT platform shared a teaser featuring Saurabh Shukla and Johnny Lever, sitting on a bridge and discussing the future of comedy in India, and who could further their legacy, before deciding they couldn't leave it to young comedians; much like Shah Rukh and Salman in the Pathaan scene.
The promo's caption shared on Instagram read, "Kursi ki peti baandh lijiye mausam bigadne nahi, comedy hone wala hai (fasten your seatbelts because the weather won't be bad, but comedy will happen)!" In the video, Johnny, who appeared to be mimicking Shah Rukh Khan from the end credits scene of Pathaan, told Saurabh in Hindi, "I've been doing this (comedy) for 30 years now. Sometimes I think about leaving it all behind. But I wonder who can take our place? " Afterwards, the two argue and reject every comedian they can think of, including Kapil Sharma who "invites people to his TV show". "Desh ki comedy ka sawal hai yaar, bacho pe nahi chod sakte hai. Hume hi kuch karna padega (The country's comedy scene is at stake, we can't let the kids deal with it, we have to do something)" , Johnny said then. When Saurabh asked "Magar kaise (but how)", Johnny jumped in excitement and said "ease (like that)" and the show's title song started playing.
Fans viewed the comments section of the video and said they were looking forward to watching the show. One of them commented: "Pathaan in a parallel universe". Reacting to what Johnny said in the video, one person wrote, "Absolutely okay – looking forward to it."