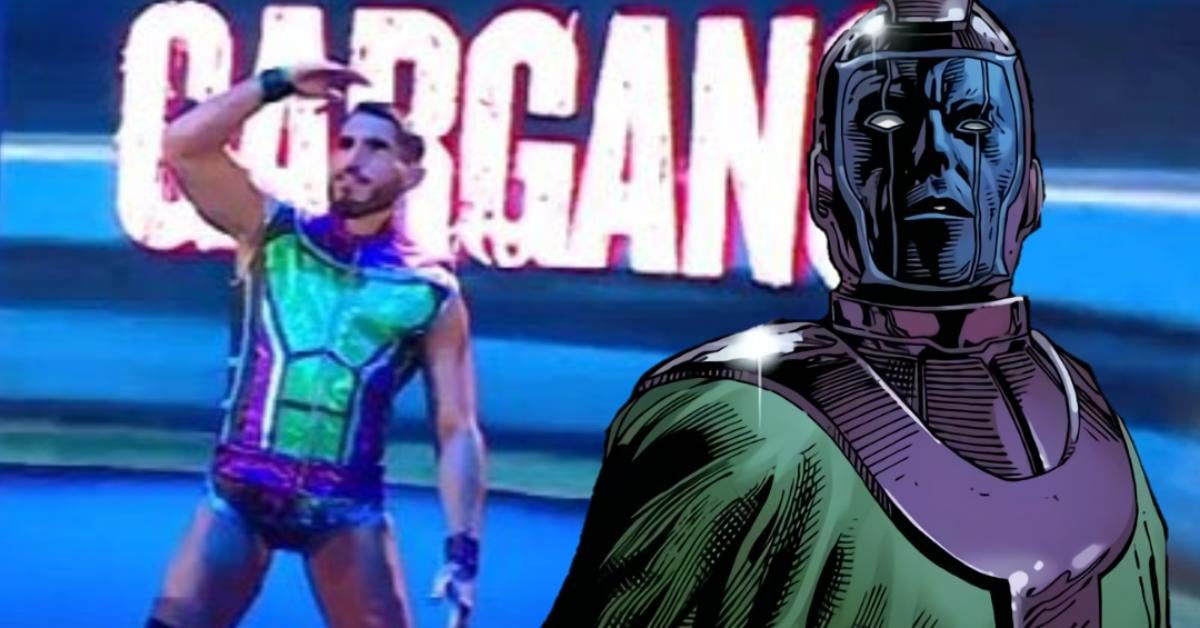 WWE Superstar Johnny Gargano has made his return to the ring as part of WWE Royal Rumble with the launch of new gear inspired by Marvel's next big villain, Kang the Conqueror. Gargano has been absent from action on WWE Monday Night Raw for the past few weeks, so fans were really excited to see that he was confirmed to be returning to action for the Men's Royal Rumble match. It was especially exciting because it also meant that Gargano was likely to release some new superhero-inspired gear for the occasion, just like he's done for big events in the past.
This was definitely the case for the Men's Royal Rumble match as Gargano made his return to the ring entering in place of number 5 with some cool new gear inspired by the Ant-Man and the Wasp: Quantumania (and much of Phases 5 and 6 of the Marvel Cinematic Universe) the villainous Kang the Conqueror (portrayed by Jonathan Majors in the new film). This was a brief preview of the gear, but you can really see the inspiration with the jacket and jerseys as fans will see later:
5️⃣: @JohnnyGargano #RoyalRumble pic.twitter.com/5W6HGsdYdi

—WWE (@WWE) January 29, 2023
How Johnny Gargano paid tribute to Marvel's Kang the Conqueror
Sporting a purple and green look for the occasion, Gargano is clearly set for Kang the Conqueror's dominance over the rest of the Marvel Cinematic Universe. With Ant-Man and the Wasp: Quantumania Already slated for release next month, it won't be long before we see what kind of real threat Kang will pose to Ant-Man and the rest of the Avengers in the months and years to come.
As for what to expect from the premium WWE Royal Rumble live event this year following Gargano's entry into the Men's Royal Rumble, the card is as follows:
Men's Royal Rumble Match
Mountain Dew Pitch Black Match: Bray Wyatt vs. LA Knight
Raw Women's Championship Match: Bianca Belair vs. Alexa Bliss
Women's Royal Rumble
WWE Undisputed Universal Championship Match: Roman Reigns vs. Kevin Owens
What do you think of Johnny Gargano's Kang the Conqueror inspired gear for the WWE Royal Rumble? Does this make you hyped for more villains to come in the near future? Let us know all your thoughts on this in the comments!