Sometimes you need to turn a piece of paper into a digital file. You may need to include a receipt, registration, or other form of proof in an online form. Or you want to store copies of important documents in the cloud so that they are always available and protected from loss or destruction. Such documents are often digitized as Portable Document Format (or PDF) files.
Previously, you had to use either special hardware or a third-party iPhone app to take a photo of a document and convert it to PDF. Apple has added a very handy document scanner to the Notes and Files apps, and it does a surprisingly good job of capturing most documents and converting them to PDF. Since it's not very obvious, you'll be forgiven for not even knowing it exists. This is how you scan, convert and save documents with Notes or Files.
Scan the document and save it as a PDF with notes or files.
You can scan the document into Notes and then save it as a PDF (if you prefer), or you can directly scan the document into the Files app as a PDF.
Completion time:

5 minutes

Required tools: iPhone with iOS 11 or later.
Cost: 0
1.
Create a new note and add a scan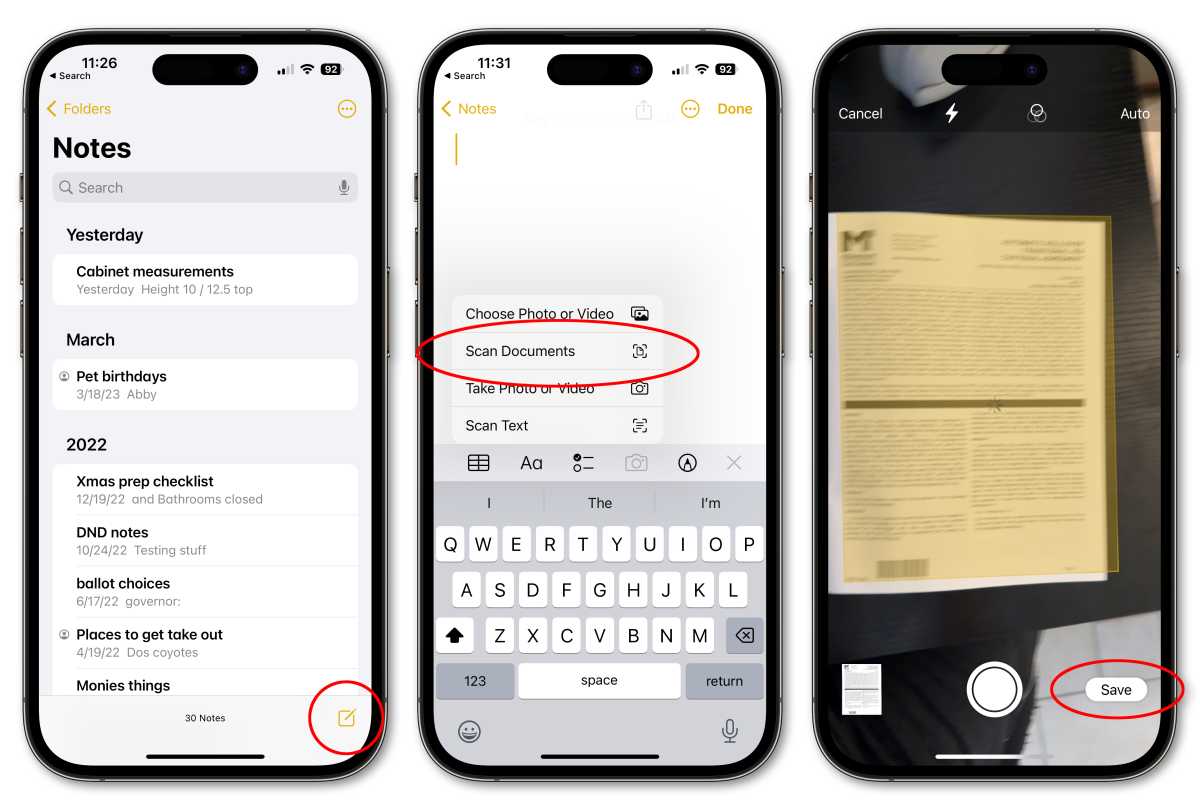 Foundry
Open Notes and create a new note (or open the note you want to add the scanned image to).
Tap the camera icon, then select Scan Documents.
Hold your iPhone over the document until it's selected. You can press the shutter button or hold your iPhone (or iPad) still until the scan is completed automatically.
Drag a corner to adjust the scan, then tap Keep crawling. You can add more scans or click Keep.
2.
Export scan from Notes to Files as PDF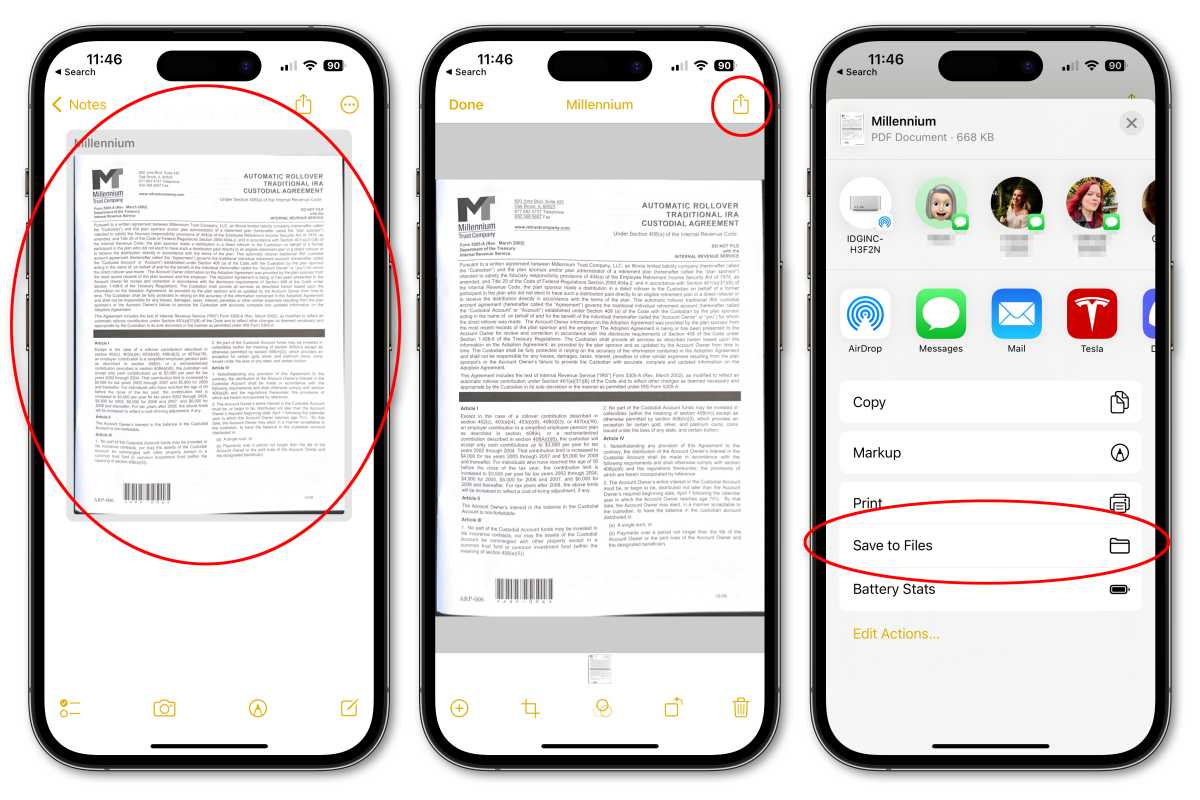 Foundry
Open the note with the scanned document.
Tap the scanned document, then tap the Share button in the top right corner.
Choose Save to files.
Select the folder in Files where you want to save the PDF file. Give the file a name (and tags if you like) at the bottom of the screen.
3.
Scan directly to files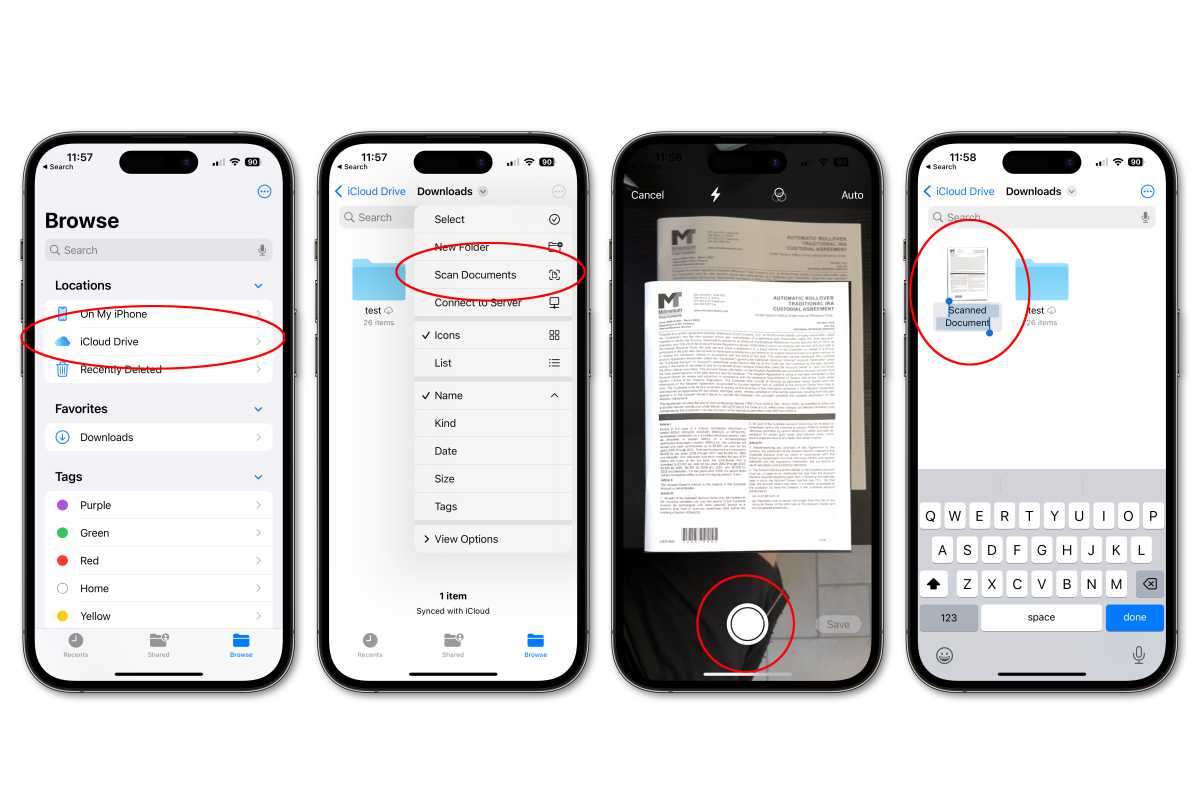 Foundry
If you don't want to save the scanned image to Notes, you can directly scan it to Files, where your document will be saved as a PDF. You can then share it with other cloud services if you like.
Open Files, then choose a location to save the scanned image.
Click the "More" button (…) in the upper right corner and select Scan Documents.
Align the document and tap the shutter or hold still to take a photo automatically. If you are using the shutter, you can drag the corners to adjust and touch Keep crawling.
Add additional scans of your choice and tap Keep when you're done.
The scan will be saved in the location of your choice as a PDF and will probably be named "Scanned Document". The name will be highlighted so you can easily change it.
Once a scan is created, you can select it and use the Share button to send it to other cloud services if needed.