Kangana Ranaut meets all the requirements of a spy model with a poker face in DaqadSukanya Verma remarks, but the film needs a real salvage.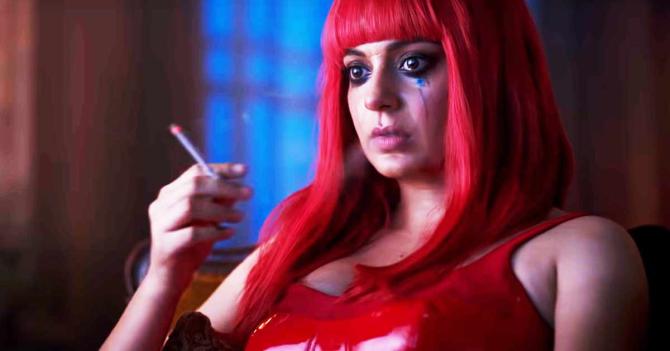 Daaqad this is a showcase of Kangana Ranaut's skills as an action heroine. Like all her post-Queen projects, she dominates nearly every one of his photogenic shots, flaunting her quick movements and willingness to load her gun.
Like all ready-to-wear, gadget-equipped outfits, die-hard Hollywood agents, spies and commandos all rolled into one, her Agni selflessly dives into one spectacular location after another all the way from Budapest to Bhopal.
Debut director Razneesh Ghai, a terribly B-rate, tediously dark take on the girl with guns genre, has an insatiable appetite for violence but doesn't know how to make all the blood count for something. You can estimate his IQ in dialogues such as "Home jism nahi bechti, jism zaroor alag karna business high measure."
What worries Daaqad more – cosmetic images and an empty pose.
There are flashbacks to the villain's origins, shot in the smoothest shades of black and white, designed to throw the viewer off balance with an excess of sliced ​​flesh.
His opening shot (COP Tetsuo Nagata) lingers on Agni's seductive figure standing against a European window in black underwear and short hair. Cut to her boss barking orders, "Dragonfly, this is the ringmaster." teenagers minute Hey.' Before anyone can chuckle a bit at those words, she's already gone from machine gun-shooting soldier to katana-wielding samurai to throat-slitting ninja.
A trained human weapon, haunted by the ghosts of her traumatic childhood, Agni shows no signs of life or libido. But when her boss (Saswata Chatterjee) instructs her to take over "Asia ke sabse bade human trafficking network," she begins Daaqada two-hour video game with the enthusiasm of a deadpan zombie.
As if to compensate for Agni's lack of emotion, the antagonist duo Rudravir (Arjun Rampal) and Rohini (Divya Datta), at the helm of the aforementioned racket, hit with a hammer and tongs to make their presence felt.
Guy's feelings from the comics spill over into the fictional setting of the "anything is possible" scenario, which explains Rudravir's lair working in a coal mine, where he is brainwashed and creates a fundamentalist army, spewing some nonsense about human rights. This man has a bizarre hideout in Hungary as well.
If Rudravir is a mysterious bastard lurking in the shadows to the accompaniment of wolf howls in India, then he turns into a Russian-style mafia with platinum hair and fur-collared coats and henchmen who dress up as Xena, warrior queen in Hungary. What's even weirder is Rudravir's obsession with a lousy lullaby that gets unnecessary screen time.
Arjun Rampal looks terrible and speaks with a strange Bihari accent, but his theatrical ferocity brings welcome relief. Daaqadmonotonous action. As his lewd partner and the cruel brain behind the girl traffic, Divya Datta does it loud and flashy.
Meanwhile, Kangana Ranaut fits the bill for a poker-faced spy model, which means she's either in disguise (a curly correspondent with a fake foreign accent, hijabtailor in screaming prosthetics, blonde cabaret dancer) or unleashing her rage on the bad guys in typical action heroine uniforms – tight skinny jeans and tank tops.
To keep her from looking like a total cyborg, a colleague's child (a devastated Sharib Hashmi) throws herself at the painting to have her play the savior. But it's a movie that needs a real rescue and Daaqad it just doesn't cut.
Rediff Rating: