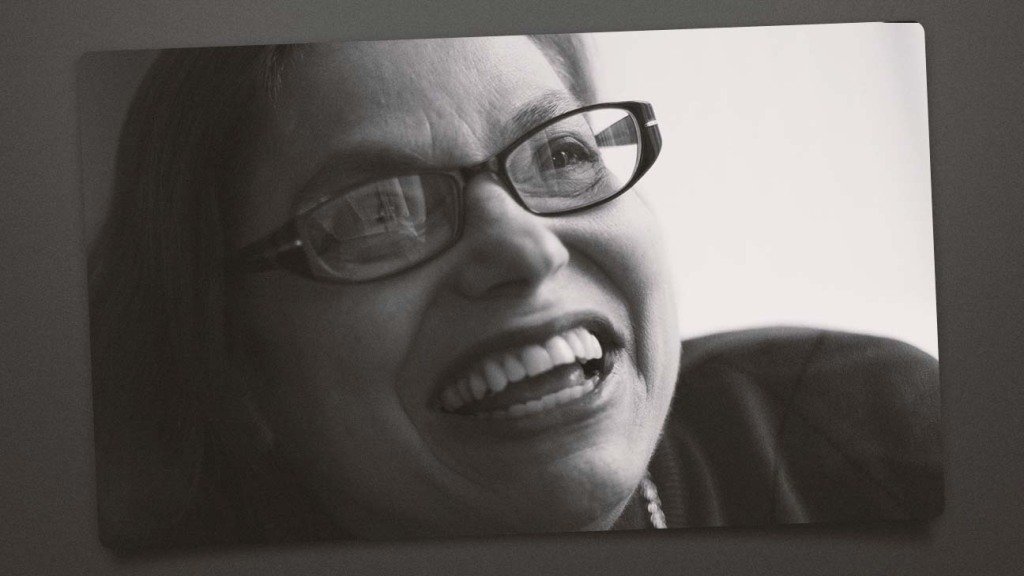 Judy Heummanna renowned activist who helped pass legislation protecting the rights of people with disabilities, has died at the age of 75.
News of his death Saturday in Washington, DC was posted on his website and social media accounts and confirmed by the American Disabled Persons Association.
Heumann's exact cause of death was not immediately known. She had been in the hospital for about a week but expected to go home, said Maria Town, president and chief executive of the association.
"Beyond all the political and legal battles she helped win and fight, she really helped to make disability not a bad thing, to make it acceptable to 'being disabled in the world and not being seen as someone who needs to be in a separate and special place,' Town said.
Heumann, who started using a wheelchair after contracting polio at age 2, has been called "the mother of the disability rights movement" for her longstanding advocacy for people with disabilities by the through protests and legal action, its website says.
She lobbied for legislation that eventually led to the federal Americans with Disabilities Act, the Individuals with Disabilities Education Act, and the Rehabilitation Act. She served as Assistant Secretary of the U.S. Office of Special Education and Rehabilitation Services from 1993 in the Clinton administration until 2001.
Heumann was also involved in the adoption of the United Nations Convention on the Rights of Persons with Disabilities, which was ratified in May 2008.
She helped found the Berkley Center for Independent Living, the Independent Living Movement, and the World Institute on Disability and has served on the boards of several related organizations, including the American Association of People with Disabilities, Disability Rights Education and Defense Fund, Humanity and Inclusion and the United States International Council on Disability, says its website.
Heumann, who was born in Philadelphia in 1947 in Philadelphia and raised in New York, was the co-author of her memoir, Being Heumann and a young adult version titled, rolling warrior.
Her book chronicles the struggle her parents went through trying to secure a place for their daughter in school. "Children with disabilities were seen as a challenge, economically and socially," she wrote.
She then graduated from high school and received a bachelor's degree from Long Island University and a master's degree in public health from the University of California, Berkeley. It was groundbreaking at the time, which shows how much everything has changed, Wall noted.
"Today, children with disabilities expect us to be included in mainstream education, to have the chance to go to high school, go to college and get those degrees," said said Town while acknowledging that inequalities persist. "But I think the fact that the main hypothesis changed is a really big deal, and I also think Judy played a big part."
She was featured in the 2020 documentary film Crip Camp: a revolution for people with disabilities, which highlighted Camp Jened, a summer camp Heumann attended that helped spark the disability rights movement. The film was nominated for an Oscar.
In a 2021 interview with The Hollywood ReporterHeumann called on Hollywood to speak with people with disabilities whenever considering about disability-inclusive narratives.
"They need to bring people with disabilities to the development table for their hardware, and they need to hire people with disabilities for some or all aspects of the work," she said. "At the end of the day, it's not just about watching more screaming camps and more films about disability, but it's really also about understanding that people with disabilities, on and off film sets, have a lot to contribute around disability, but also in general.
She was also attached to executive produce an adaptation of her best-selling memoir for Apple Original Films, which was to be directed by CODA director Siân Heder and produced by John Beach, Kevin Cleary, Alex Astrachan and David Permut with his Permut Presentations.
During the 1970s, she won a lawsuit against the New York Board of Education and became the first teacher in the state to be able to work while using a wheelchair, which the board had tried to declare a safety hazard. fire.
She was also a leader in a historic, nonviolent occupation of a San Francisco federal building in 1977 that paved the way for the passage of the Americans With Disabilities Act, which became law in 1990.
Town, who has cerebral palsy, said Heumann was the one who suggested he use a mobility scooter to help get around. She wasn't ready to hear it at first after she had been told all her life that she needed to look less disabled. Eventually, however, she decided to give it a try.
"And it literally changed my life," Town said. "And that was part of what Judy did. She really helped people to accept who they were as disabled people and to be proud of that identity. And she has helped so many people understand their own power as people with disabilities.