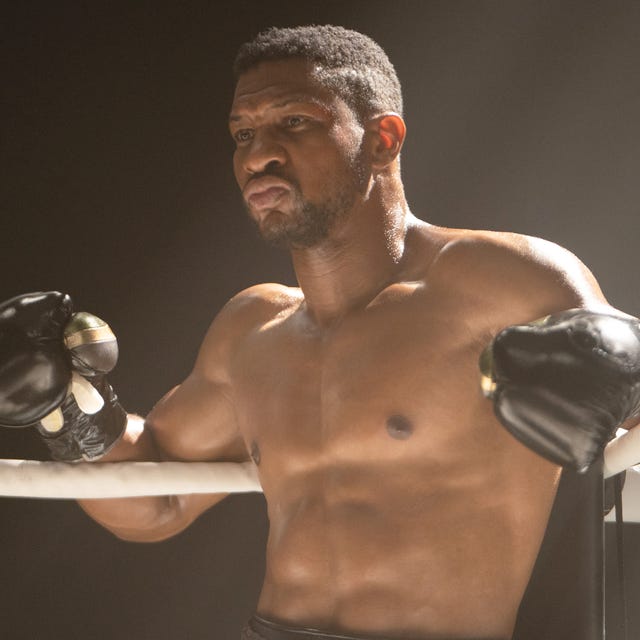 Eli Ade/Metro-Goldwyn-Mayer Pictures Inc.
Creed III star Jonathan Majors landed her next lead role in a film titled Lining.
According The envelope, Majors is set to star in the upcoming project from Westbrook Studios and Amazon Studios. Majors will also serve as producer for the film under his company Tall Street Productions.
In a classic case of life imitating art, Lining will tell the story of a Broadway production stunt double who finds a role he's willing to kill for.
Related: Creed III star Jonathan Majors on building intimacy with Michael B Jordan
Spike Lee is in "early talks to direct" the film, which would serve as a reunion between Majors and Lee. The two have previously worked together on Da 5 Bloods.
Tyler Cole wrote the screenplay for Liningwhich is based on its own original story, alongside Mother land writer Tom Hanada and SMILFit's Zach Strauss.
The majors recently played in the third installment of the Creed franchise as Damian 'Dame' Anderson, a childhood friend of Michael B. Jordan's Adonis Creed who later faces his old friend in the boxing ring.
Addressed exclusively to digital spyMajors open to the construction of intimacy between the two characters.
"With the story we tell of how these men have been so intimately bonded since childhood, there is no limit [between them]. So we got a lot out of it," he explained.
Related: The ant ManJonathan Majors of , confirms details of Major Kang the Conqueror
"But we also did a lot of work to try, you know, to dig it in and make it dramatic. A life without boring parts, right?
"If you've seen a fight and you realize, 'Okay, they're strangers'. Well, this is war, isn't it? You have an opinion on that.
"And then they tell you deep down, those two are best friends. You kind of want to stop that. Because it's not natural, right? It's not natural for that to happen. is anathema to friendship."
Creed III is currently in theaters.