Mammootty should subscribe to the OTT series because he's too charismatic to let this be our last memory of the CBI diaries, suggests Divya Nair.
SPOILERS AHEAD.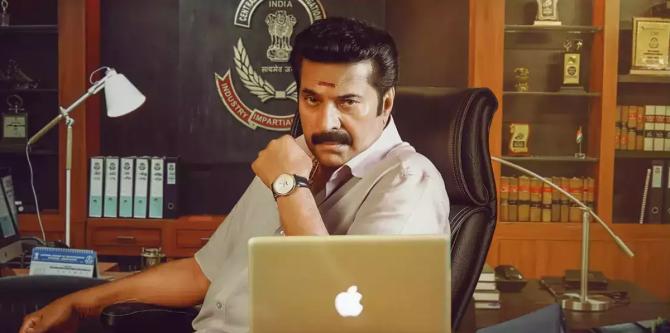 After Drishyam 2 as well as Marakkar, CBI 5: Brain was one of the most anticipated Malayalam films released in recent times.
I was deeply disappointed when I missed a fifth of a successful series in theaters. My father watched it and was delighted.
In fact, every time he raved about it, I found it hard to tell him not to reveal the plot or twist.
When the movie finally came out on Netflix, I watched it on the first day of its first screening from the comfort of my home.
Directed by K. Madhu, screenplay by S. N. Swami. CBI 5: Brain begins with CBI officer Balagopal (Renji Panicker) giving a seminar to a new group of IPS officers where he tells an unusual but interesting murder mystery solved by a CBI team led by the smart Seturama Iyer (Mammootty).
The film opens with the state home secretary dying of cardiac arrest on a flight from Delhi to Kochi.
While no wrongdoing has been found, two other people, including the minister's doctor and a journalist who suspects a connection, are also found dead under mysterious circumstances.
When former CBI officer Josemon dies in an accident, the case is turned over to the CBI after the police fail to catch those responsible.
When Mammootty marks his appearance on screen with a background CBI trademark appraisal, I get goosebumps.
Enter Mukesh as Chakko and as part of their investigation, they will stumble upon their old nemesis Satyadas (Saikumar), who will take you on a short nostalgic journey through the 90s.
When they finally meet Vikram (an ailing Jagati Shrikumar, shown as a guest as a retired CBI officer), the CBI trio somehow feels complete.
So far, the creators have spent a good 30 minutes or more trying to establish the importance of its key characters and spark curiosity about the murders. But what now?
The chase leads to a set of useful and unimportant references that stretch the movie for another hour or so.
To be honest, I'm tired, annoyed, and want to fast forward to the mastermind, if there is one.
The mastermind is revealed only in the last 15 minutes.
But was it worth all the drama and chase?
Come on, we're in 2022 when teenagers commit suicide hoping to win an online award. So discussing the 2012 case, when a man with many aliases hacked into a pacemaker to kill someone, seemed too futile to me.
The plot, unfortunately, failed to do justice to its characters.
Maybe people in the audience, like my father, got sentimental looking at their favorite stars on the screen.
He told me how people whistled and stood up, watching Jagati just smile and nod. 'Verum crap, but…(just a mannequin…)," he told me, and I believed him.
As in previous episodes, the mannequin my father (Jagati) mentioned helps solve the case.
Looking back, I feel like Mammootty should sign up for the OTT series because he's too charismatic to let this be our last memory of the CBI diaries.
As for me, I'm just really glad I didn't spend a lot of money to see it in theaters.
Rediff Rating: