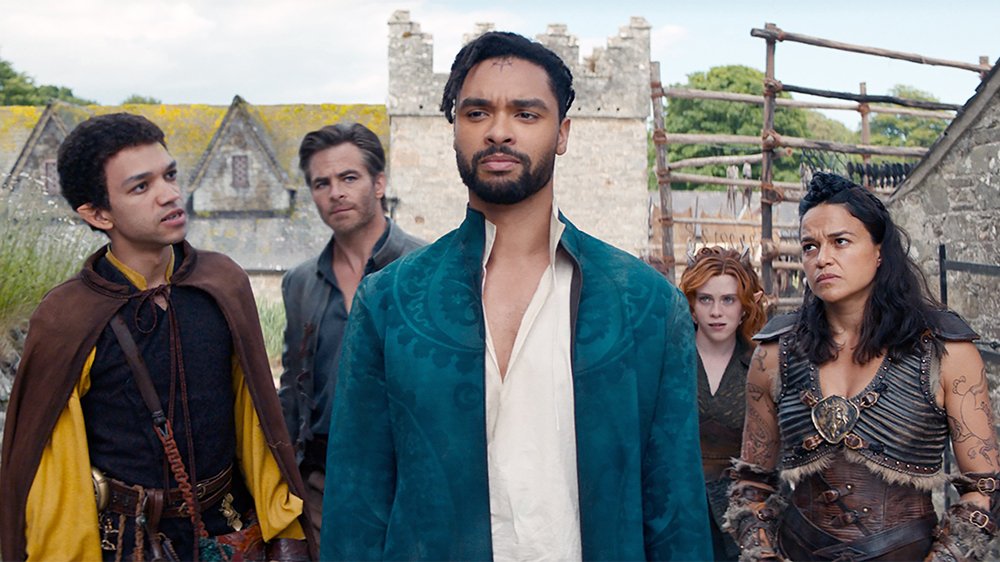 'Dungeons & Dragons: Honor Among Thieves' emerged victorious over last weekend's box office champion 'John Wick: Chapter 4', grossing $38.5 million from 3,855 North American theaters during its weekend. opening end.
Buoyed by positive reviews and enthusiastic word-of-mouth, Paramount and eOne's adaptation of the popular role-playing game landed on the high end of expectations of $30-40 million.
Internationally, "Dungeons & Dragons" collected $33 million from 58 markets for a worldwide total of $71.5 million.
Ticket sales are expected to remain strong in the coming weeks, which is needed as the film took in $150 million before its heavy marketing campaign. The inaugural crowds were likely die-hard D&D gamers, but analysts think it will appeal to a wider audience, who may not know as much about the game as it continues its run on the big screen.
"The opening weekend performance of 'Dungeons & Dragons' is just the first leg of the journey for this well-reviewed film," said Paul Dergarabedian, senior analyst at Comscore.
David A. Gross, who runs film consultancy Franchise Entertainment Research, says "it's a good opening for an action adventure that has the potential to generate sequels." He adds: "At a cost of 150 million dollars, it is abroad that 'Dungeons & Dragons' must excel to be profitable and become a series."
Although its box office campaign is far from over, the "D&D" film adaptation is seen as another step forward for Hollywood, which has long struggled to bring games to the big screen. The genre has seen a turnaround lately with the unexpected success of Paramount's "Sonic the Hedgehog" and its 2022 sequel, as well as Sony's "Uncharted." And Universal and Illumination's "Super Mario Bros," which opens next weekend, is set to continue the trend and has the potential to become one of the biggest movies of the year.
"Over the past 15 years, toys and video games have become a good source for new franchise movies," Gross says. "It has not always been the case."
Jonathan Goldstein and John Francis Daley ("Game Night") directed PG-13″Dungeons and Dragonswhich centers on a charming thief (Chris Pine) and a band of unlikely adventurers (Michelle Rodriguez and Regé-Jean Page among them) who embark on an epic heist to retrieve a lost relic. Audiences gave the film an "A-" CinemaScore, which is a good sign even though it will soon face competition from "Super Mario Bros."
'Dungeons & Dragons' caps off a surprisingly strong March at the box office, which set franchise opening weekend records for 'Scream', 'Creed' and 'John Wick' and could possibly spark a new series in "D&D".
"John Wick: Chapter 4" took second place with $28.2 million from 3,855 sites, an outstanding result for its second release. After two weeks on the big screen, the action sequel has grossed $122.7 million.
In third place, "Scream VI" added $5.3 million from 3,016 sites, bringing its domestic total to $98.2 million. It's already improved on its predecessor, 2022's "Scream," which finished its North American box office with $81 million.
The latest "Scream" ranked just ahead of religious drama "His Only Son" and "Creed III" in the box office charts. The film opened to $5 million, which is impressive considering it only cost $250,000 to make. "His Only Son," about Abraham's directive to make the ultimate sacrifice, is backed by a new company called Angel Studios, which gives creators the platform to fund, create, and distribute movies and TV shows with a full creative control.
"Creed III" rounded out the top five with $5 million from 2,827 locations in its fifth weekend of release. The sports drama, directed by Michael B. Jordan who also stars in the film with Jonathan Majors, has grossed $148 million to date in North America.
More soon…